By: Chad Orras, Amelia Whitford, Dani Gomez, Yujun Mei, & Anthony Ebel
At the beginning of class today, two undergraduate students within the Journalism school came to speak briefly about a project they are currently working on. The team is headed to the Bateman Case Competition to represent the University of Oregon. In this project, they are focusing on promoting the United States Census within the Eugene, Oregon area. Their presentation gave insightful tips on what to expect, how to gain further information, and how to properly give a fair representation of the population. For more information, they gave their Instagram handle @eugenecounts.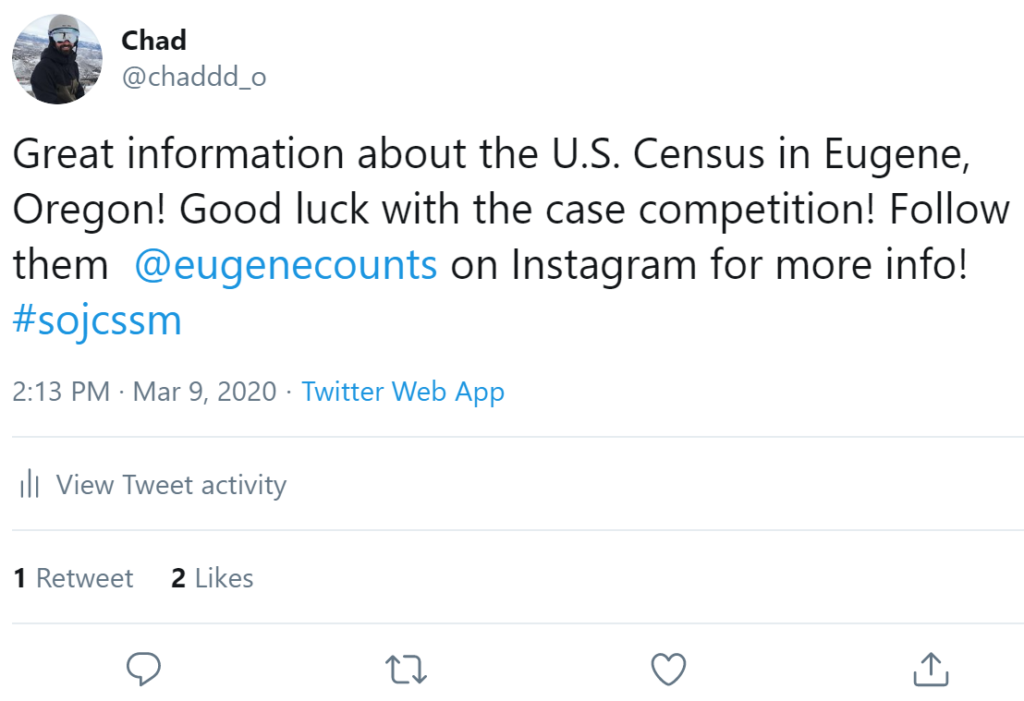 We then began our topic for the day, content creation. At the beginning of the lecture, Kelli poised two initial questions before creating any content on social media. With these questions looming you then can move into the core structure of substance, workflow, structure, and governance. This core strategy helps to move any content strategy or creation into a better- formulated vision. The question then becomes, how do you use diverse images to show empathy?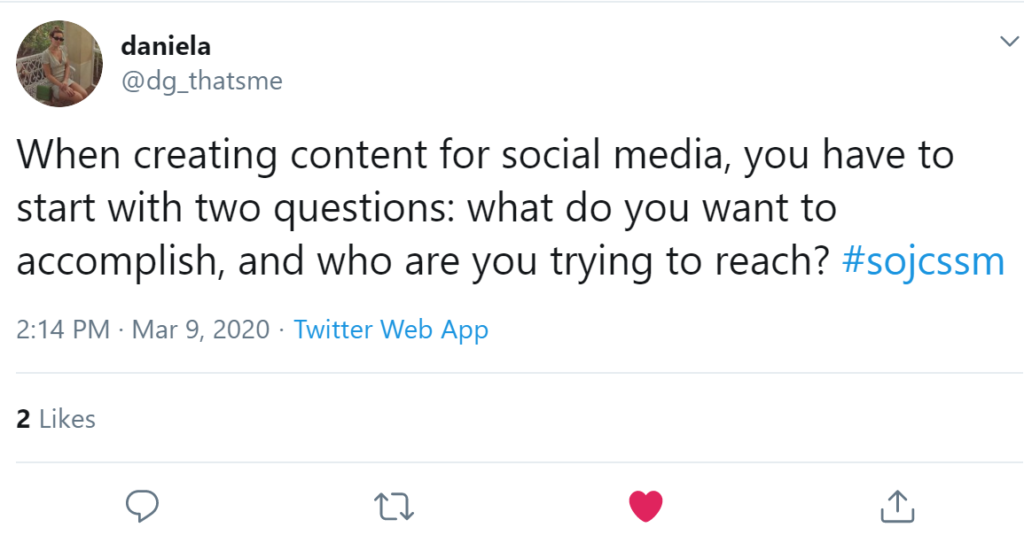 The lecture then moved into the idea of the Social Media Bridge. This comes from an idea of how you bridge the gap between what you are selling and the team, with social media bridging the gap. To help this social media gap comes to the three main pillars. This includes empathy, expertise, and community. In order to create a successful social media content strategy, it requires a balance between the three.

One of the keys to creating content is the understanding that quality content takes time. It is not something that will occur overnight, it needs to be planned and have a successful workflow to be consistent. Timing is everything. If you don't know your customer and you haven't done the proper research, then it will not work. You need to know what questions are being asked so you are prepared to answer them.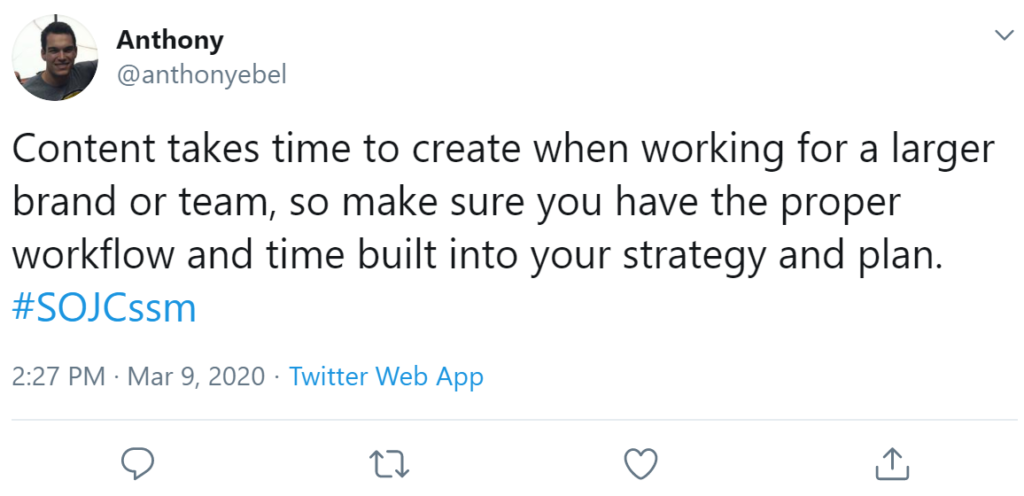 When it comes to the different platforms, it is important to understand what content will work on which platform. When it comes to Facebook, details are key! it is important to keep the caption shorter and have a strong image, hashtags do not work. On Twitter, there is popularity in gifs, hashtags, and short videos. The key is to allocate the proper time to moderate any business page and fulfill the expectations of how the brand you are working for should be represented.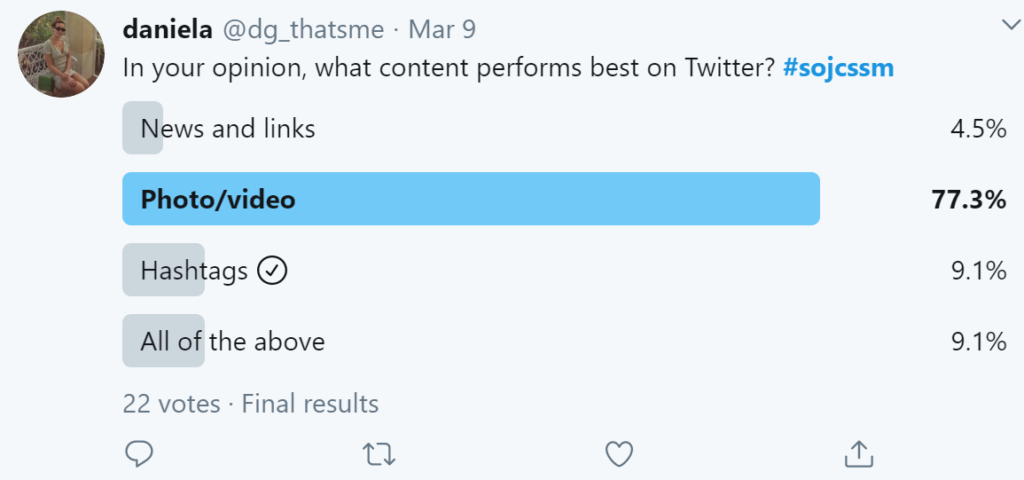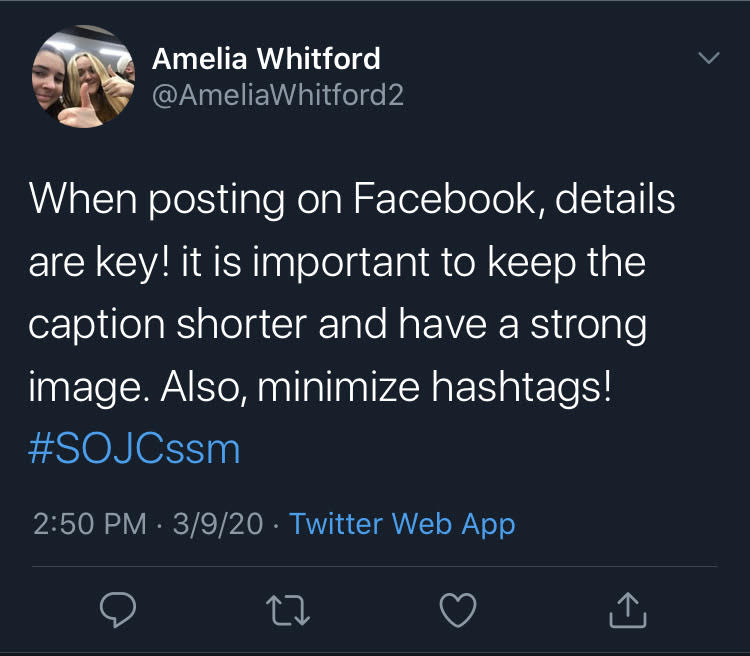 Frequency of posting varies depending on what you are posting and where. It is important to not only know the difference but keep records in understanding a proper calendar. This is where a content calendar comes into play. This calendar will help you find the sweet spot in content creation. When it comes to content prompts it is important to follow the ten steps identified below: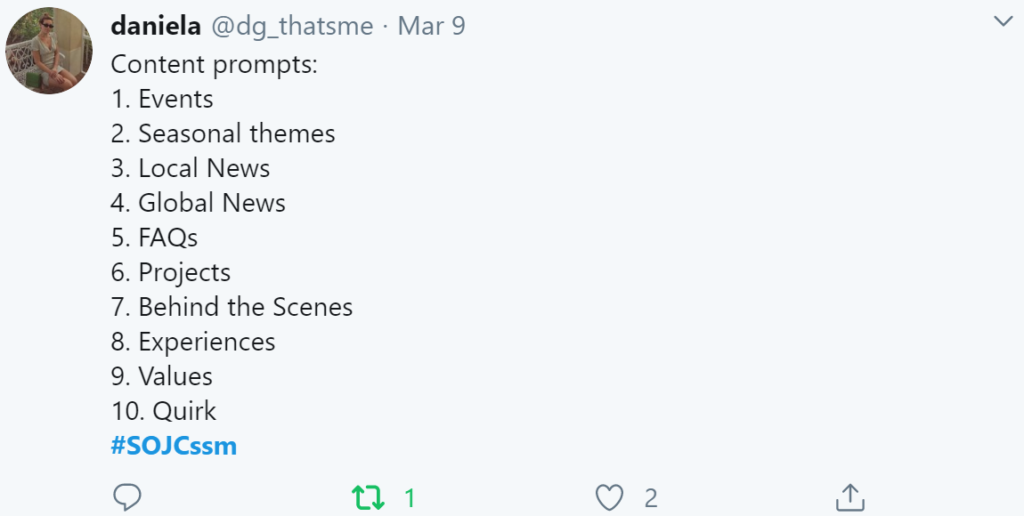 Content calendars are important for any business to maintain a good approach in creating consistent successful content on each separate platform. HubSpot was highlighted as one of the best resources for a company to use. They have all the tools needed to make it easy for any company when creating a content calendar. The key to any calendar is to avoid inauthentic content. While it does need to have consistency, it also needs to show the consumer it is not just automatically syncing or a copy/paste post. Always remember, content takes time! With the right consistency and proper plan/content calendar in place, it will create success for any social team no matter how big the business!