By: Anushka Pawashe
In the past few months, Instagram has taken initiatives to hide likes for a subset amount of its users. Instagram is still testing this new feature as a way to combat mental health concerns in teens. Instagram's chief Adam Mosseri stated that the idea behind the initiative was to lessen competition for popularity and make Instagram a safer and more inclusive online community. "It means we're going to put a 15-year-old kid's interests before a public speaker's interest," Mosseri said at Wired's annual summit. "When we look at the world of public content, we're going to put people in that world before organizations and corporations."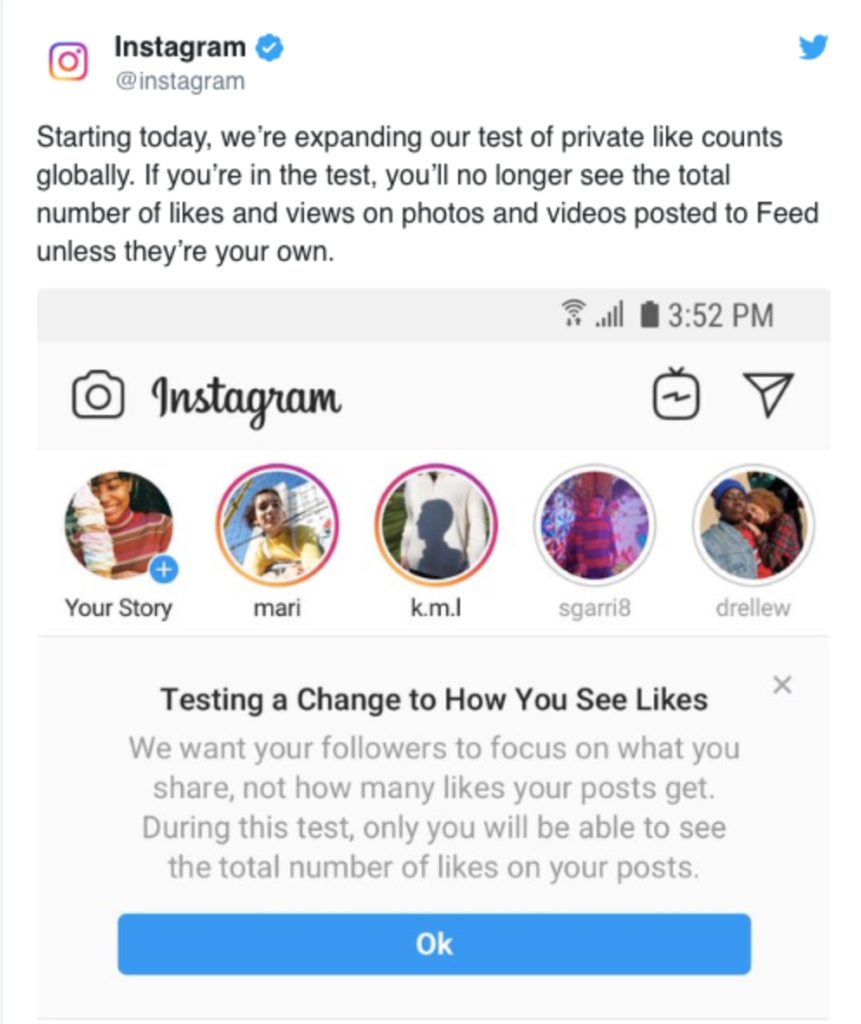 So what could this mean for brands and strategic social media marketing? Brands and Influencers have come to rely on likes to run their business and make sales. They count on being discoverable on feeds and the explore page. Instagram's algorithm is heavily based on likes, so could this be an issue for concern?
For the most part, brands will still be able to analyze the data and the likes they garner on their accounts. The only issue that might be of concern might be that brands won't have a strategic way to vet influencers before recruiting for sponsored content. Access to users that have a higher amount of reach and engagement will be helpful for a brand that needs to that might not have the same presence on social media. A large amount of marketing and advertisement now days is done on social media and using influencers to reach a wide variety of audiences.
However, that does not mean that brands can't develop new strategies to market on social media. The number of followers and the number of comments are still visible on all user's profiles and brands will still have access to their data. This just forces brands to stop worrying about vanity metrics. Likes are a social marker; a popularity contest between individuals rather than a strategic way to reach a target audience. According to AgencyAnalytics, it is more important to focus on follower growth, engagement per follower, website traffic, link clicks, comments per post, Instagram stories engagement and reach.
Another reason why likes may not be as important as we think is the constant development of bots, and purchased likes. This skews data that might be helpful for brands and may not give them the results they need. By hiding likes, the production of likes might decline due to the original incentive being taken away. This is an advantage for brands now because they can analyze their accounts increase or decrease of likes without the negative influence of bots.