First off, it seems pretty important to explain what exactly a social media content calendar is.
In today's media filled society, where the job title of "Instagram Influencer" actually exists, it is beneficial for companies, and above mentioned influencers, to plan out their content in advance. Regularly sharing new and exciting content is key for companies and individuals to engage with their followers and potentially attract new followers.
Content calendars are extremely beneficial for a multitude of reasons:
It allows companies and individuals to stay organized
It's easy to forget the plethora of holidays, events and product launches now that "National Pizza Day" and "National Ice Cream Day" have become essential days to post new and relevant content. Therefore, content calendars help ensure that you are not missing any of these occasions.
It allows you to save time and energy in the future, considering posts will be readily available at the necessary posting time.
It helps companies and individuals collaborate more easily because they can coordinate schedules and make sure that the content matches their desires.
So now that we've covered why content calendars are important, it's time to discuss the how. 
Decide what platforms you are going to be posting on- which have the highest engagement rates? A social media audit might be a sound place to start before diving head first into the content plan.
Next, it's important to determine how often you are going to be posting on each platform.

Here's an great infographic that provides some valuable information if you've caught yourself questioning: "What should I post on each platform?" or "How often is too often, or not enough?"

photo by Constant Contact

Gather links, photos, videos or any other relevant content that you intend on using. It's also helpful to craft those catchy and attention grabbing captions now so that posts are ready to go when the time comes! There is no such thing as having "too much content"- you can always omit something when the time comes, but there is nothing worse than struggling to find content when you needed it like, an hour ago!
Now that you've done all the prep work, it's time to actually create your calendar. This means finding a calendar online (or creating your own) that fits your wants, needs and desires and filling that sucker out! One website I suggest checking out is this template!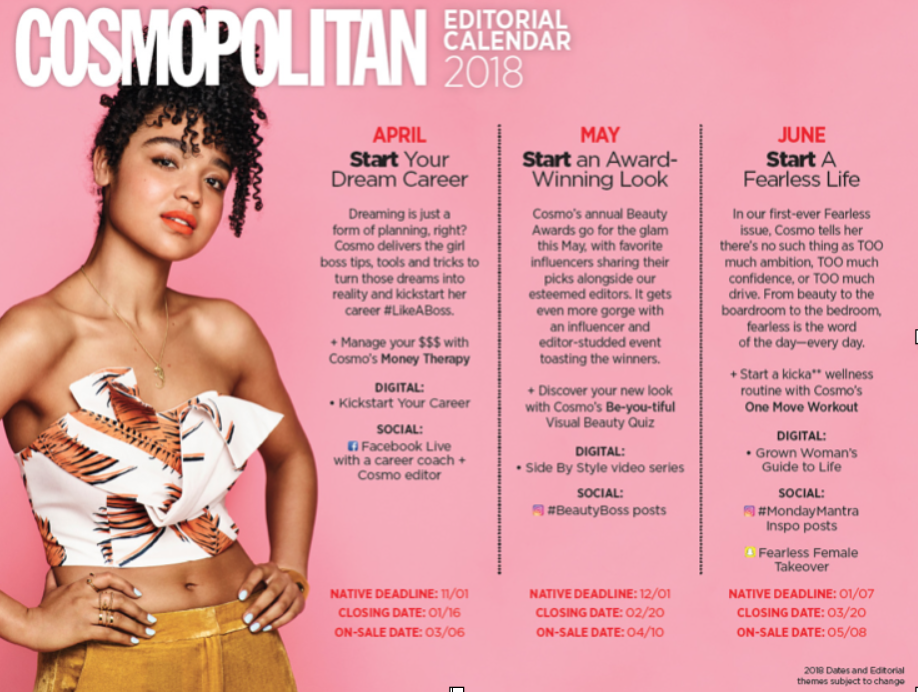 This calendar from popular international women's magazine, Cosmopolitan, is a great example of a visually appealing, yet efficient way to plan content.
Twitter: @SouryEmily
Linkedin: Emily Soury
Instagram: @EmilySoury