By: Iyanna Soltero
Most of us live by our own set of morals and ethics, and most of us can point out what's right and what's wrong in life, but social media can be a true test to that. Think of a social network as a community. In a community your main purpose is to build relationships and make connections. There are three main principles you want in your community: authenticity, transparency, and communication. Proper behavior means being an honest, trustworthy person who people want to get to know.

Social media is becoming more and more essential in business as it is in personal life. More companies are using social media as a tool to drive more traffic to their businesses, but there's a right way to do it, and there's a wrong way to do it.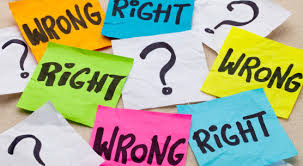 Our online persona should reflect our real-life values and ethics, with the idea in mind that our online social network is our community. If you treat people properly, they'll want to treat you properly, too. Sitting in front of a computer screen, and typing rather than speaking, shouldn't change your application of morals and ethics any different than you do in face-to-face interactions.

We want our community to be made of people who are honest about who they are and what they stand for. Transparency is just as essentially important online as it is in real-life. Even when it's difficult, we want to know the truth. Whole Foods CEO John Mackey learned that using an online alter ego risks ruining reputations and bonds with customers, when it was revealed that he made false accusations online about competitor, Wild Oats in 2007. Making false accusations about somebody can be disastrous as it may lead to a ruined reputation of the individual. For example, in the U.S. there have been incidents where some individuals were falsely accused of threatening others. Such incidents certainly left a strain on their image. As a result, some of them probably consulted a professional from firms similar to Salwin Law Group to take legal actions and clear their name. So, yes, false accusations can not only botch your image but also could hamper your daily life.
Managing social media using the code of ethics can be vital for success. Remember that what you put out, is what you'll receive back. Create your community with the three main principles, and remember what the purpose of using social media is in your business. Don't stray away from your morals and ethics online any differently than you do in real-life: be ethical!
Twitter: @iysummers
LinkedIn: Iyanna Soltero