By: Sasha Martczyanov
Last week, we had the pleasure of having Anna Kluyeva lead the lecture in our Strategic Social Media class. As students living in the United States, our social media experience is much different than young adults living in countries with high censorship of internet content, like Kluyeva's home country Russia. Anna Kluyeva was generous enough to shed some light on what it's like to participate in social media in a strict and highly-censored country like Russia.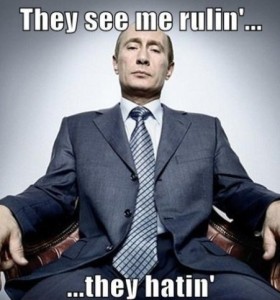 Even just acquiring a social media account in Russia can prove to be a bit of a challenge. In order to sign up for social media in Russia there is a verification process the user must go through. The user must sign up with a cell phone, in Russia cell phones are only sold to those with passports. By requiring the user to show a passport in exchange for a cell phone the user is essentially allowing the Russian government access to their info.
Unfortunately, the rigidness doesn't end there. Posting content deemed "extremist" by the Russian government is considered a crime. Users who post such content can be fined, and even jailed. What is considered "extremist content" in Russia fits into what US citizens define as satirical. For example, all memes depicting Russian president Vladimir Putin are outlawed. Russia is rigorous in their censorship, censoring at least 4,000 websites for unseemly content per day. This type of government endorsed censorship leads users' to self-censor, limiting their freedom of speech.
Not only does Russia harshly censor users' content, but they are also in possession an army of paid bloggers working as pro-Russia Internet trolls and employ thousands of Pro-Russia Twitterbots that produce automated content. According to an article from the Guardian, these internet trolls are paid to flood social forums with Anti-Western comments, regardless of topic. "Trolls" are unofficially employed by the Russian government and are paid in cash for reaching the required post limit per day. The bots, while not humans, serve a similar purpose, to flood Twitter with Pro-Russia content.
Russia's views and guidelines regarding social media vary vastly from what we have experienced in the United States, and ultimately I think that's something we should make an effort not take for granted.