By Nikki Zing
Children grow up idolizing artists, actresses and entertainers they watch on television or in social media. Individuals who are being observed on these platforms begin their careers at a young age, which contributes to them developing a fanbase early on. The media has portrayed these celebrities as perfect and untouchable, rather than as human beings with emotions and feelings. Our current society does not recognize the severity and detrimental pressures that come along with having the entire world watching you.
Child actors and singers are exposed to the spotlight at an early age, with their every action being examined and critiqued. There is a lot of pressure placed on these young celebrities to be a role model for their young followers which causes them to eventually have a breaking point. Not to mention, it is very damaging and toxic to grow up in an environment that places so many unrealistic expectations on you at an adolescent age.
Billie Eilish, 19, was recently featured on the cover of British Vogue magazine, showcasing revealing attire as contrast to her usual baggy style. The internet blew up when the cover was published and since then has gained record breaking views. There is a lot of controversy surrounding the photoshoot about how Eilish was an advocate about controlling her own image which was initially non revealing clothing.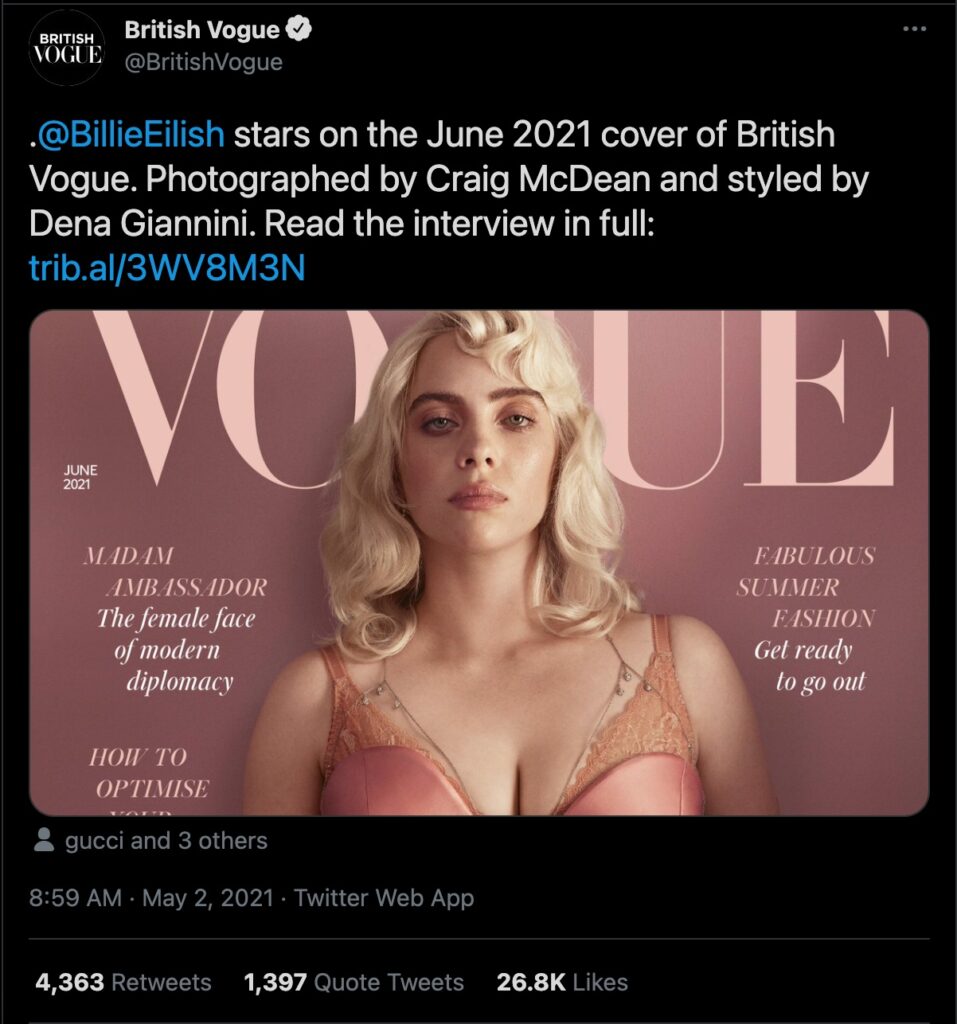 Eilish is a talented singer and songwriter who rose to fame at the age of 13. Her initial impact on the music business was with the song "Ocean Eyes," and we have witnessed her grow into her career since then. Eilish is recognized for challenging the ideal standards of singers and celebrities with her values, one of which being the media's objectification of women's bodies. In 2019, she explained in her Calvin Klein advertisement that she utilizes fashion to hide parts of herself from the world because she does not want to be judged for anything other than her music. This resonated with many of her followers and females around the world because social media is used as a weapon to harass and sexualize women's bodies based on what they choose to wear.
"Suddenly you're a hypocrite if you want to show your skin, and you're easy and you're a slut and you're a whore. If I am, then I'm proud. Me and all the girls are hoes, and f— it, y'know? Let's turn it around and be empowered in that," she said. "Showing your body and showing your skin — or not — should not take any respect away from you."

– Billie Eilish Defends Vogue Cover Shoot, Jeremy Fuster, TheWrap
The media needs to understand that it is not their place to judge or place their opinions on a young girl. Eilish was a child when she came to stardom and she recognized at that young age that social media would produce judgments about her body rather than focusing on her music. It is awful to watch celebrities shield themselves from the harsh criticism based on ideal beauty standards that society has established and continues to reinforce.