By Shelley Smith
Network Literacy is becoming an increasingly needed skill in our highly connected age. NetSciEd released an infographic-type brochure that "provides and initial step toward facilitating the development of network literacy."

This got me thinking about my own social network use, information silos and critical thinking. As a self-proclaimed "Social Justice Warrior" I have curated my social media networks to provide a steady stream of political information as well as reinforcement of my own beliefs. For example, as a body-positive fat person, I follow several body-positive influencers and the imagery in my feed has a lot of fatness. This is a positive reinforcement of my own journey to body-acceptance as well as a block to anti-fatness sentiments. I engage with several anti-oppression organizations and influencers via social media similarly, which leaves me in a bit of an information silo. However, connecting to the "opposition" to break myself out of that silo means getting digitally assaulted with sexism, heterosexism, racism and all the other things I'm working hard to unlearn.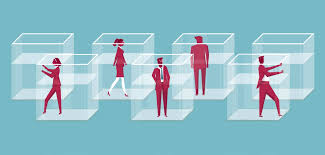 Orgnet's Social Network Analysis gave me a good perspective on how I might break out of my information silo in a way that could potentially reduce the direct harm popping up on my socials. The metaphor of the silo is that is is very deep, but not really wide comparatively. Utilizing a little network literacy, I can widen my silo to sources that report on the opposition. Groups to which I belong could have varying sizes – vast and nationwide to small and local, offering the big picture and local details of a particular issue. My social media networks and connections have depth and lack breadth. Using the three "centrality measures: Degree Centrality, Betweenness Centrality, and Closeness Centrality," here are some ideas I have about diversifying my social media networks:

Degree Centrality is my immediate "clique." This constitutes my close network of people who interact with me and each other. I've got several of these based on the "group" to which I belong. We know each other either online or in person or both. My Degree Centrality overall is pretty good with my social media network connections. We all stay pretty well connected within a group or "hub."

Betweenness Centrality is an area where my social media networks could use some work. I follow my friends and sizable organizations, but don't often relay information. It's as if I visit several silos that are close together and pretty similar and never share what I found in one silo with the folks in the next silo. Maybe the problem is that it's actually just one silo. Using the social media example, I use Facebook, Twitter and Instagram. Perhaps if I engaged on Tumblr or Reddit, I'd have a better position to "broker" information between my groups.

Closeness Centrality is also pretty decent in my social media networks. I have my personal groups and hubs of which I am a member, while also admining a group Facebook page socially, as well as several groups in a professional capacity for my employer. I'm close to bigger networks and more personal networks – and also see opportunity to position myself outside of my tight-knit hub.

Where are you in your social networks, digitally or otherwise? What silos are you in? How can you use this example to widen and de-centralize your networks?