By: Siena Di Roma
In modern day society, social media plays a huge role in our lives. It determines where we shop for our clothes, where we take our next vacation, what we cook for dinner, and even what workouts we are going to do at the gym. Influencers on Instagram post countless images of trending products in order to influence their followers. Like these influences, we are all driven by a desire to gain more followers. Although, this is done more easily with the best instagram bot. These endless images put so many different ideas in our head of how we should be living our lives. Fitness and nutrition has become a wildly popular trend on Instagram and while influencers can inspire people to live a healthier lifestyle, there is a dark side to this that many people do not realize.
It is almost impossible to scroll through Instagram without seeing an ad for a new diet or a post from an influencer about what foods they are currently cutting out of their diet. Typically, these fitness Instagram influencers have millions of followers and receive even more views on their posts each day. Most of those influencers could have possibly opted for the services of marketing firms like Path Social (refer to The Small Business Blog here, if interested). This marketing technique could work in favor of those businesses that are aiming for an organic reach on social media platforms. But, weight loss is a huge trend in our society and is the focus of many of these posts. Influencers, such as Kayla Itsines, Kelsey Wells, and Triniti Jean, post daily photos of their abs, their workouts, and their meal plans. Many influencers have even created their own workout guides, apparel, and apps. While this may seem inspiring to some, others have found it to be overwhelming and to have a negative effect on their body image. Studies have shown that even briefly looking at Instagram can have a negative effect on self esteem.
Young people are constantly bombarded with pictures of other young people looking their best. The problem is, looking your best is becoming an impossible ideal. There are, of course, a few things that you can do to feel more comfortable in your own skin. Many young people opt for a rhinoplasty in order to feel less self-conscious in public. The best Rhinoplasty Vancouver has to offer, for example, has allowed thousands of people to feel more confident in themselves. The key is, however, to be happy with yourself, and not to compare yourself to other people that you see online. Chances are, they don't really look like that.
There are countless stories of girls becoming too obsessed with their image and with dieting and working out and much of this can be attributed to the constant images of fitness influencers on Instagram. The main problem is that not all of the influencers who claim to know about fitness and health are as qualified as they may seem.
In order to combat this negative body image problem on Instagram, there is a whole other group of influencers who have made it their mission to promote body positivity. While they are not as focused on losing weight or having a six-pack of abs, they promote loving yourself and accepting how you look. A few examples are MankoFit, Jen Sinkler, Anna Victoria. These women post photos of themselves that are not always the most flattering, but that are real. They remind women that no one is as perfect as they look on Instagram. They are also helping to stop the constant comparisons that many women make to those that they see on Instagram. Women who are somewhat body-conscious may be keen to purchase flattering clothing for themselves which can help them become more confident when out in public. This is true also for women preparing to go on vacation who are buying swimsuits. They may want to check out brands like Hermoza that design their clothing to be both flattering and modest; check them out here – https://thehermoza.com/collections/pear. It's all about feeling good about yourself and not shying away from hitting the beach or lounging by the pool in what you want to wear.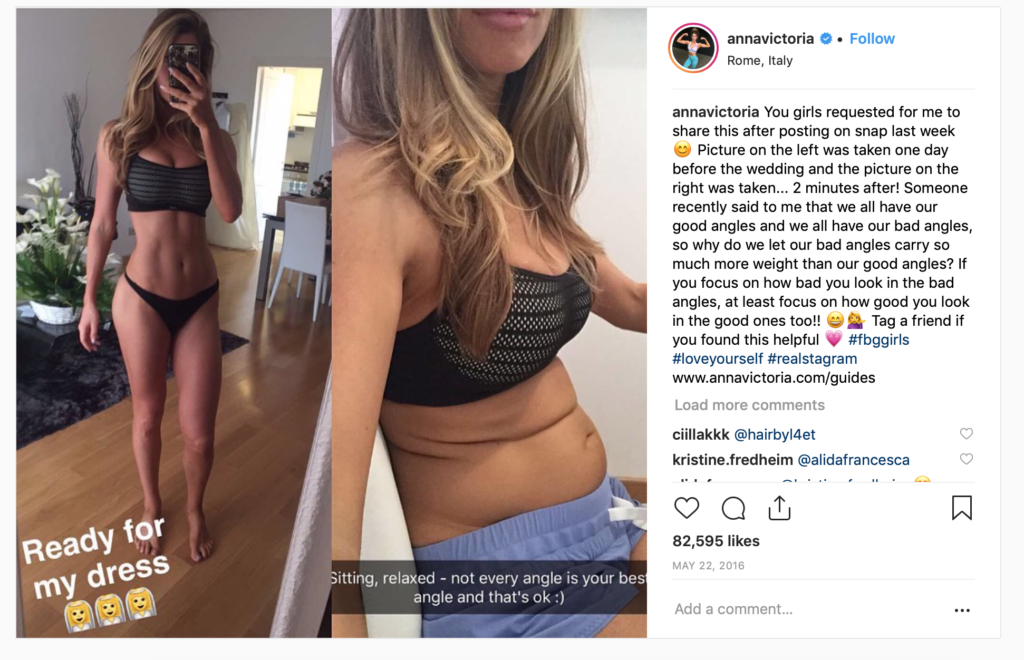 This post from Anna Victoria is a perfect example of an Instagram influencer spreading body positivity. She explains in the post that these two photos were taken only 2 minutes apart and the only change is the way in which she is sitting. It is important to have influencers like Anna to remind followers that no one is as perfect as they may appear on Instagram. Instagram influencers that constantly post perfectly posed photos of their bodies are creating unrealistic expectations for society.