By: Céline De Clercq
In the process of covering reach, engagement, and boosting ads this week in class, I've taken a particular interest in Instagram advertising. Instagram's easy to use interface makes it one of the most popular social media interfaces for youth, and one that adults have an equally easy time getting into. Its photo-based platform is fun, quick, and a key arena for advertisements that reach youth markets.
Alesia Hsiao, a writer for Marketing Strategy at Business.com even calls Instagram "the king of social media" with a "4.21 percent engagement rate."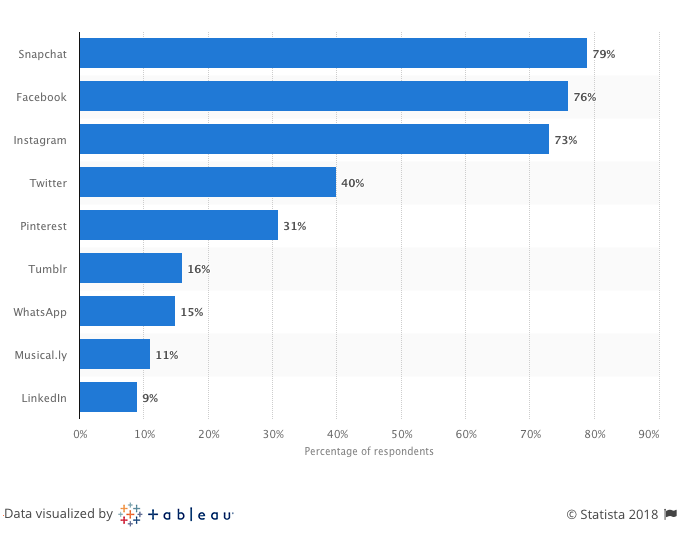 [https://www.statista.com/statistics/199242/social-media-and-networking-sites-used-by-us-teenagers/]
One thing that really brings Instagram to the forefront of advertising is how seamlessly advertisements tend to blend into users' feeds. When browsing Facebook, blogs, news sites, or even just when casually google searching, ads are usually easy to distinguish and sometimes even obnoxiously in the way. On Instagram, however, I find myself constantly caught by sponsored content and advertisements, often thinking they're posts by friends. As noted by Alesia Hsiao from business.com: "most people [don't] notice ads cluttering up their feeds," a viable pro and con of Instagram advertising. No company wants their ads to be considered a nuisance, but they do need to be distinguished in some way in order to catch people's attention. With an estimated 76% of American teens age 13-17 using Instagram (NORC at University of Chicago 2017), it seems like the perfect outlet to reach youth. But if these photos look too much like a post you would see in your feed already, how effective are these ingrained advertisements?
For example, let's look at this post in my newsfeed by @headlandslodge: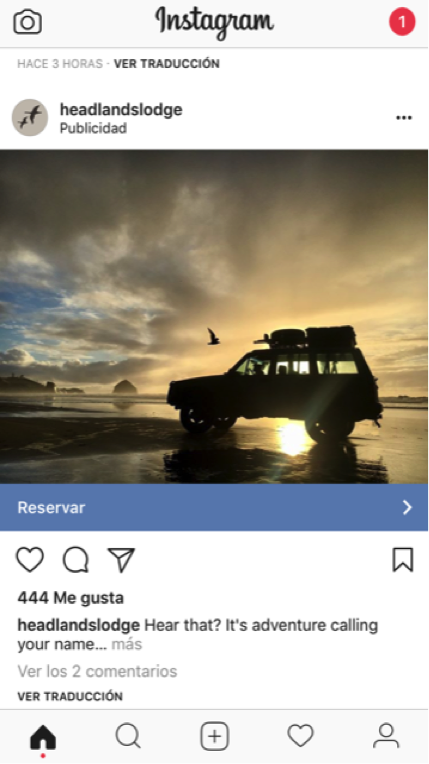 Looks like your friend went to the beach, right? Like cool, whatever. I mean the "Reserve" pop-up doesn't even appear until you scroll over the picture, so it seems like this would easily be overlooked, even if it is habitually liked.
However, let's look at @thrivemkt's sponsored post:
Oooh, a quick tutorial on making food? You've got me. Even if I did think it was a friend's post, scrolling over this caught my interest and ended up getting me to follow their page. I know it works the same way for my teenage sisters and their makeup tutorials.
So, what's the takeaway?
Sure, photo advertising on Instagram is easy and doesn't bother users, but if you really want youth (and honestly most of us) to engage, make something that really catches their eye – make it move.
Instagram already knows this. Their very own business advertising website suggests, "Short, fun videos that resonate with [your target] audience" when trying to "increase awareness among young people." They outline effective social media campaigns including @hismileteeth's "Punchy videos with Conor McGregor" (ha, I see you Instagram) that resulted in 5x the return on the ad spending, a 90% increase in male customers, and a 14 million reach in relation to 18- to 24-year-olds. If you want to check it out follow the link: https://business.instagram.com/success/hismile/
Trying to engage youth?
Instagram? Yes
Ads? Yes
Photos? Maybe
Videos? Definitely
Twitter: @celine74605957
Instagram: @celinika123
Additional Information and Works Referenced:
https://business.instagram.com/advertising (Build your business on Instagram)
https://www.techwyse.com/blog/social-media-marketing/what-are-the-different-types-of-instagram-ads/ (Different types of Instagram Ads)
https://blog.adstage.io/2017/11/07/instagram-ad-cost-report/ (Instagram Ad Costs Benchmark Report)
https://www.sciencedaily.com/releases/2017/04/170421113306.htm (Media Report survey from U Chicago)