By Lauren Garetto
Crisis. Something no business wants to encounter, and something we all hope they try to avoid. But do businesses really do their best to avoid them?
Constantly we see social media campaigns go wrong like McDonald's, or offensive wording like Bud Light, or even insensitive pictures like Teenage Mutant Ninja Turtles, and we're all left wondering why this happens.
How is it that multimillion dollar companies with so many employees are able to make such rookie mistakes?
Well, it happens. And even if we don't know exactly why, we must understand that although it may seem like a crisis, it's probably not – you can fix this.
Melissa Agnes tells us that situations you may think are a crisis are usually not as bad as you think. In her words, "A crisis is a negative event or incident that risks threatening the organizations reputation for the long term." If it is not a long term threat then it is simply an issue.
Key word there is "long term." Most mistakes will be forgotten, and the company can move on and hopefully learn from it. But don't get too comfortable, if the issue is not taken care of properly you risk turning it into a crisis.
Here's some tips from Melissa, and myself, that will keep your business from running into a crisis.
State that you are aware of the incident.
Acknowledge that you know there is a problem. Do this on whatever platform that your business gets the most attention on.
State what you are doing about the incident.
Simply knowing something is wrong won't do your situation justice. Give your audience specifics about what you are doing to make the problem better. This should include names of employees who are working on the problem to make the situation feel more personal.
Message needs to be written with sincere compassion.
Often times an issue spurs from someone being personally offended or it is a topic that is bigger than ones self, and for that reason sincerity is crucial. Make your audience believe that fixing the problem is the number one thing at the top of your agenda – as well it should be.
Say that you will come back with more and say when and where.
Giving your audience a specific time and place (link) to look for results ensures that there is something being done about the situation in a timely manner. In addition, this holds you and your coworkers accountable for getting things done.
Side note: If the time frame that you originally set will not work, it's OK to say that you are still working, but keep giving updates. People will expect answers eventually, but they don't expect them right away.
Kitchen Aid is a great example of this model.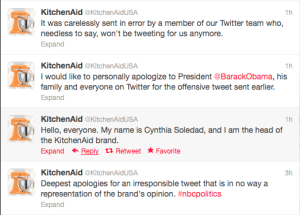 If you're not avoiding drama in your businesses, then please at least make sure to handle it properly. All people expect from you is communication, and you better give it to them!
Twitter: @laurengaretto
LinkedIn: https://www.linkedin.com/pub/lauren-garetto/96/883/49a