By: Mira Eagan
As a Taylor Swift fan, social media has been one of the most effective ways I've kept up with her life. While social media fights and internet beef engulfed Swift, the naysayers only furthered her stardom. One of the biggest social media fights I've seen is Taylor vs. Kanye. At the time, many people were quick to take sides without knowing the whole story. Swift's experience shows how facts can be manipulated on social media and how cyberbullying affects people–even the most prominent celebrities.
It all started at the 2009 MTV music awards. Taylor Lautner took the stage to announce the female video of the year. The crowd went silent as the nominees were announced, including "Single Ladies" by Beyonce, "You Belong with Me" By Taylor Swift, "Hot and Cold" by Katy Perry, and "So What!" By Pink. Lautner announced that Taylor Swift, the young country artist, had won the award. As Swift took the stage, she was filled with excitement as she stated, "I always dreamed about what it would be like to maybe win one of these someday, but I never actually thought it would have happened." Seconds later, famous rapper Kanye West stormed on stage and took the microphone during her speech. West said, "Yo Taylor, I'm really happy for you, I'll let you finish, but Beyoncé has one of the best videos of all time!" Swift stood there speechless, the crowd cheered for West, and Swift was left humiliated.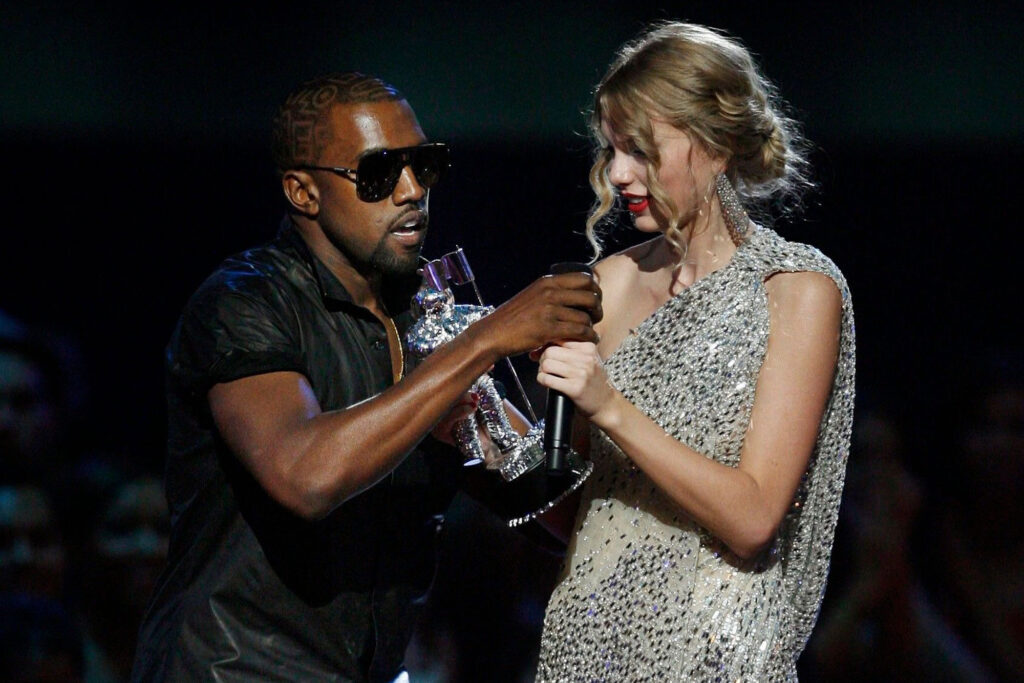 The VMA's were only the start of internet fights, cyberbullying, and leading to Taylor Swift going into hiding for a year. Following the 2009 VMA's Swift and West continued in their independent careers. Swift quickly became one of the most famous and well-known singers of our generation. They never officially resolved their beef, but they were often pictured at award shows together, exchanging conversations. In 2016 West was writing his seventh studio album, Life of Pablo, and he gave Swift a call because he wanted to write some lyrics inspired by their relationship. On the phone, Swift stated she agreed to the lyrics of "I feel like me and Taylor might still have sex" because she thought it was "funny and flattering." But, when the song officially came out, the lyrics were different than those discussed. West states, "I made that b**tch famous." Swift was highly offended by this, which led to Kim Kardashian talking negatively on the show "Keeping up with Kardashians" and then posting the footage of the private phone call with Swift on Twitter. As the internet began to portray Swift as a liar, people began tweeting her nasty things, and many of her close friends chose the more popular side. People were leaving hate comments on her talent, appearance, and personality which severely damaged her mental health. After this beef, Swift went into hiding for a year. When she came out of hiding, she released her sixth studio album "Reputation" which I find to be a girl-boss move. I learned about Swift's side of this mainly through her Netflix documentary, "Miss Americana" which I encourage everyone to watch if they are interested in a more in-depth perspective on this story.
As a die-hard Swiftie, I may have a different opinion on this situation. But, I do not tolerate bullying, even if it happens to celebrities. Social media gives bullying an accessible platform with little to no consequences. We most likely will have similar situations in the future, but we must stay true to who and what we love.
I hope you enjoyed reading this rant and if you ever want to talk about Taylor Swift connect with me on LinkedIn.