Symone Sparrow: In the US, Facebook is still king in terms of social media platforms, but coming in at a close second is Instagram. Although owned by Facebook, Instagram functions very differently. Options to engage with content are limited to a couple of internal app functions (without assistance from other apps), likes and comments. It was announced last week that one of those functions – likes, is in jeopardy of being altered by Instagram.
What does eliminating likes mean for an influencer heavy platform like Instagram? Where obtaining likes could be a major piece of an influencer's contract. Many celebrities have raced to the platform to share their dismay with Instagram altering the organic algorithm for how likes are shown on the platform for some users. None were louder than rap artist, Nicki Minaj. Nicki not only posted videos on her Instagram stories saying that she would stop using the platform, but she also went to Twitter to share her feelings.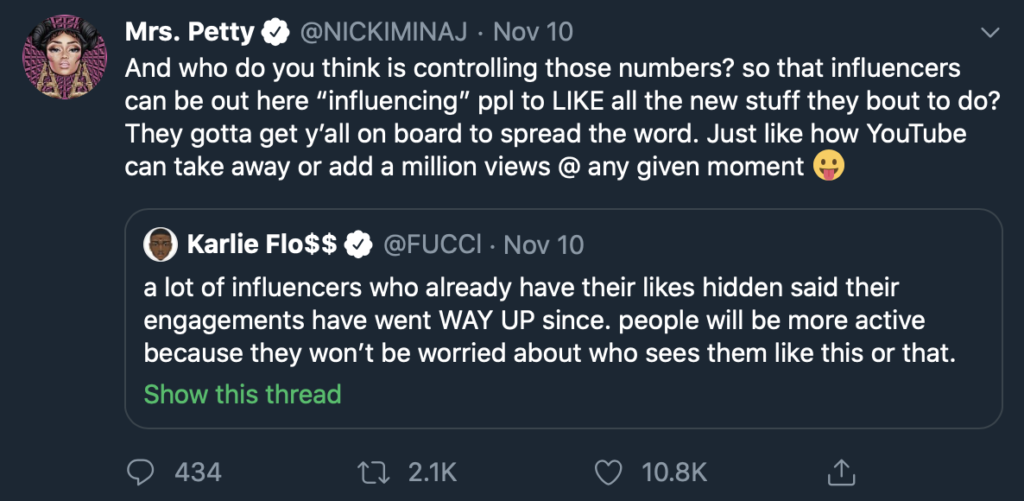 However, not all celebrities are against Instagram removing likes. Kim Kardashian West, one of the top influencers of the social media generation went on record to say that she thinks removing likes will be beneficial to the mental health of users.
Like most things in our society, there are definitely mixed feelings. Some influencers feel that the removal of likes will greatly diminish the value of the social site for both influencers and brands. Whereas some are quite ok with the removal of likes.
As we learned from our guest speaker, Kent Lewis a couple of weeks ago, influencers can be paid based on a few different metrics. It depends on what the company paying the influencer and the influencer value and agree on. Maybe moving away from likes and on to comments, or clicks on purchase links will make it some influencers are tied to more meaningful engagement tactics in their posts.
I personally, think that removing likes from the public view will add some value. A lot of the times when I see that a friend or influencer has liked something I was planning on scrolling past I will like it just to be in good company. Removing likes would take away that "peer pressure", making likes more organic. As long as content creators can have access to the likes then I think it is ok. It will capture a true depiction of whether or not the content is truly liked or not.
What do you all think, should Instagram be hiding likes? And, what will this mean for new- and micro-influencers?