By: Taylor Kissinger
When I studied abroad on Semester at Sea last fall, I had limited slow access to the internet. I logged onto Instagram maybe 6 times over a span of 106 days. All of us on the program were de-conditioned to the "plugged in" culture. It sounds silly, but we had to relearn how to socialize without the comforting presence of our phones by our sides (which turned out to be the best thing ever). How do 550 college students entertain themselves for hours on end in the middle of the ocean without technology? Picture them playing giant games of hide and seek at 2 a.m., or sometimes switching it up with ukulele jam sessions in between classes. Personally, my favorite way to pass the time was by sitting with my friends, cup of coffee in hand, as we watched the sun peak above the horizon each morning.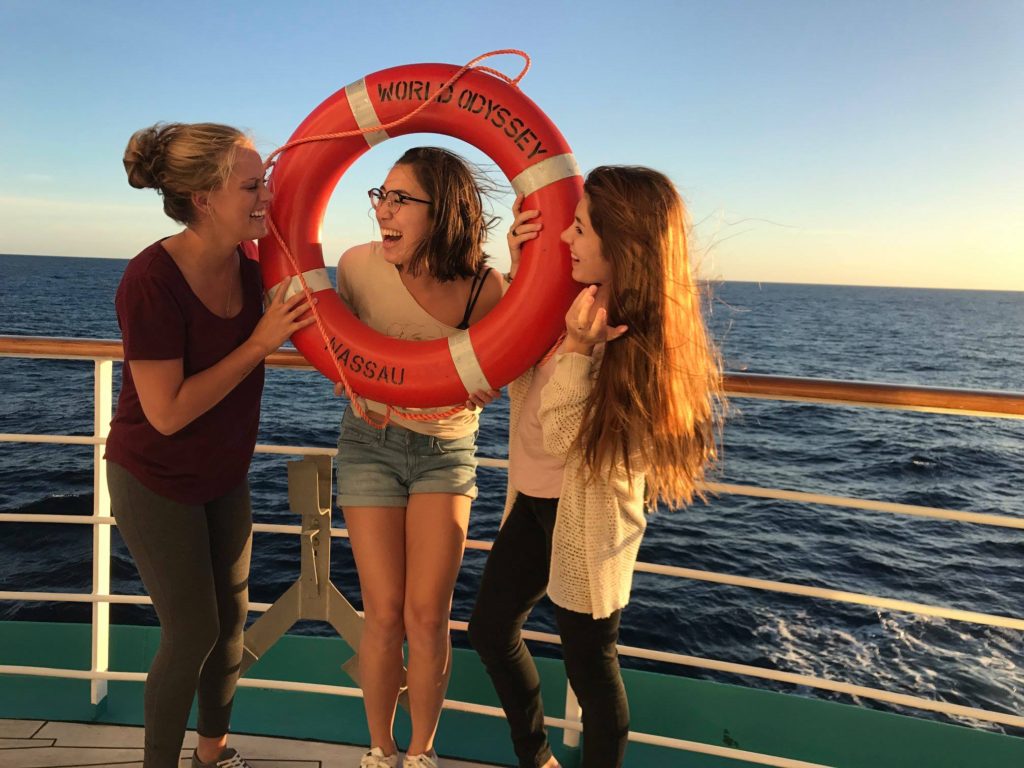 I grew so accustomed to interacting with others sans technology, that when I returned home, I struggled to reconnect with my peers. My friends got annoyed with me when I would forget to reply to the meme they tagged me in on Twitter, or when I did not open their Snapchats in a timely manner. My 16-year-old brother even threatened to unfriend me after I lost our meager week-long Snapchat streak. I'm pretty sure he was only semi-joking. Another friend of mine was offended when I liked her Instagram selfie but failed to comment on it, especially after she had commented on my most recent post (how dare I). I had to become re-accustomed to these unspoken expectations that my peers have for each other on social media. This made me think critically about the reasons why and methods by which we hold each other to these standards of digital interaction. It actually has taken up so much of my mental space that I'm currently writing my thesis on Generation Z's social media expectations, with uses and gratifications as my theoretical backing.
Uses and gratifications states that people strategically and actively use media to fulfill certain goals. It often has to do with ritualized consumption, and media usage doesn't get more habitual than social media. American youth are notoriously known for constantly being on their phones. Researchers have found that young people primarily use social media to satisfy their need for socialization. According to a 2016 study published in the Journal of Adolescence, teens dedicate over half of their internet time to social media. Even though it can negatively impact their health (lack of sleep, heightened anxiety, FoMO, social media addiction…nothing major), young people are still drawn to apps like Snapchat and Instagram to interact with friends, plan events, and stay in-the-know about each other's lives.
But now, social media has extended beyond sharing the highlights of your life; different facets of social media trickle into reality. Instagram reveals how long ago you were active on the site, and Snapchat reveals your location to all of your friends on the Snap Map, unless you're on the optional "ghost mode". These social media features paint a picture of your real time activity, and the young, social media savvy individual can read into and interpret what this means. Gen Zers have to constantly think about how their online activity could be perceived by their friends, which is why the social media landscape has created an authentic complexity to relationships and an unspoken set of social standards to abide by online.
No pressure.
I'd love to hear your thoughts on uses and gratifications in social media! You can tweet me @ohheytaykay.