By: Mark Kellman (@MarkKellman)
What are University of Oregon college student most passionate about? Puppies, alcohol and sports. How do I know this? Let's find out.
For over two years, social media has been my life. I hear things and learn things on social media all day, every day. As the engagement editor for the Daily Emerald, I look into the reach and engagement on every social post. I need to know what did well, what didn't and why.
Examining insights and analytics on Facebook and Twitter can send you down a very confusing rabbit hole. Facebook, in particular, offers you so much information on your audience, it feels like the ultimate form of stalking. It feels like you know too much information about people you may never meet.
For Instance, I know our audience is primarily women between the ages of 18 and 26. I also know their hometowns and current cities. I see what countries people are in around the world that view our page. All of this information and more helps decide what articles to push everyday.
Each person that works for the Emerald, is also the target demographic. This doesn't always happen in a company. So I pose this question to every new producer I hire: What engages you? What makes you like a page? If a post doesn't interest the person writing it, why would it interest anyone else?
These seem like rhetorical questions, but they're important to think about every time a producer schedules a post. In addition, it reminds people who they are trying to reach on a daily basis.
Know your audience and take advantage of them
You can learn a lot about people without ever talking to anyone. It never ceases to amaze me stories that do well. College students are an exceptional group of homogenous, predictable people. Post an article with a feature image of an adorable puppy and you will break engagement records for the entire year. Post an investigative piece a reporter worked on for two weeks and maybe 1,000 people will see it. Over time at the Emerald, I can now predict with accuracy which articles will thrive, post an average reach and those that we should avoid posting all together.
Our best article of this week was the cover story from Thursday about Bean Hall and the impending renovation this summer. People loved the story. For example On Twitter we had a user reply to the story that she met her husband in Bean and on Facebook almost 100 people commented and tagged friends reminiscing about how they survived living in Bean. Articles like this do well because it has depth, it appeals to past and present Ducks and we know they care about the issue.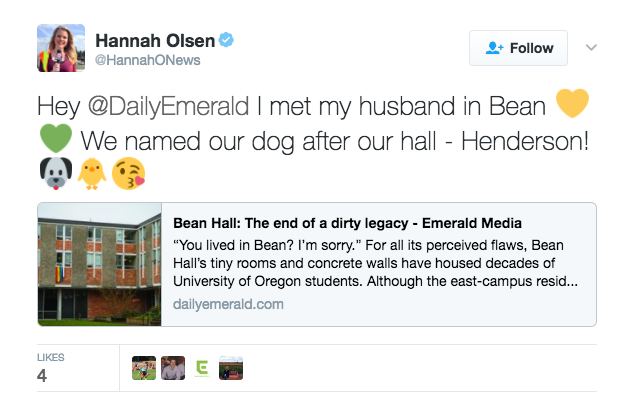 With statistics to back me up, I know exactly what college students are interested in: puppies, alcohol and sports. If we can, I try to post as many stories that our audience is interested in as possible to increase the following of the Daily Emerald.
New Challenges
This is the biggest challenge that journalists face in the age of social media. If people can select exactly what they want to read, why not give them exactly what they want? We know that Facebook is more likely to show you articles on your feed it knows you'll like and click on. Presenting a post that might challenge someone's views is now more difficult than ever to get someone to see.
With that, do we only focus our resources on articles that are sure to do well? How do journalists find a balance of hard-hitting investigative pieces and easy posts that we already know with certainty will do well? It's a daily conversation in the newsroom and no one really knows the answer yet. What do you think?