A Recap of the #SOJCssm Twitter Conversation 1/10/17-1/11/17
By Kelly O'Shaughnessy @westcoastarheel, Joey Jaraczewski @joey_jjjay and Lauren Sokol @lsokol15
In our day and age, when access to knowledge is a click away and access to conversation is a tweet away, we are all amateur social media managers. Becoming a professional social media manager seems as easy as lifting tips from Hootsuite or Bufferapp and employing free tools like TweetChat or Tweepi.
Only the novice believes that access to information is equitable with mastery.
The real truth is even more intuitive, thankfully. "Social media" is just that: a platform for social communication. While the speed and breadth of communication has increased through global social media, the basic dynamic of human conversation has not changed. As the Cluetrain reminds us, "markets consist of human beings, not demographic sectors" that will respond to the cattle call of generalized messaging. The road to mastery starts with being your authentic self in the global conversation your brand desires to join or even lead.
All of this is a long way of saying that our team managed a live Twitter conversation, and it was exhilarating.
Now the whole class gets involved.
The beginning of class sparked a much more vibrant conversation. As the three of us continued sending out our thoughts to classmates and other followers, more and more people began to join in. Through discussion questions, multi-media posts, and quotes from @kmatthews we were able to start a line of communication that stretched across the entire class.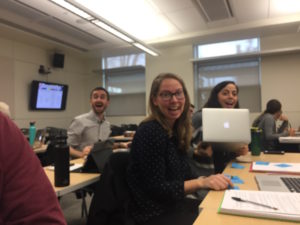 It's no surprise that a social media class can make for some interesting case studies. This was definitely the situation on Wednesday as we spoke about Walking Dead-themed Legos, a woman sending a racist tweet and losing her job while still in-flight, and a dinosaur illustration that served as the main focal point from one of the readings. Both the initial mentions of all of these quirks, as well as the responses to those original tweets, made for a very entertaining hour and fifty minutes.

About half-way through the class there was an increase in the number of tweets coming from students other than our team, which had, up until this point, dominated the conversation (overachievers). Many of these new comments added a bit more humor than the MBA students had previously manifested.

Our professor mentioned that Twitter conversations during class tend to be the most interesting part of this assignment and our experience did not disappoint. From finding out through a classmate's picture that I really should have done a better job straightening my hair that morning, to learning who in our class is an #AFOL (adult fan of LEGO), the students' tweets added great humor, enthusiasm and energy to the discussion.
Social media doesn't build character, but it reveals it.
Our Twitter Management team stimulated a discussion consisting of 87 tweets with the hashtag #SOJCssm beginning January 10, 2017 and concluding after class on January 11, 2017. Overall, the #SOJCssm tweets were delivered to over 100,000 timelines and reached over 18,000 users (this is an estimate, since this tracking includes 13 tweets prior to the start of our takeover).
Our goal was to drive authentic, engaging conversation. Although our team tweeted the most as individuals, only 54% of the #SOJCssm tweets between Tuesday and Wednesday came from our team. In addition, 26% of the #SOJCssm tweets were considered "conversational" by Hashtracking.com, meaning they were either retweets or @messages. In simpler terms: we got people talking.
We had a blast initiating this class's 2017 conversation and we are pumped that #SOJCssm is just beginning. Our team was made up of three MBAs with variety in background, interest and voice. Throughout this process, we were real with each other AND our audiences and for that, we are proud. We look forward to continuing to be voices in the #SOJCssm conversation over the course of this term.