By: Brooke Halvorsen @bhalvz
Note: This is not a list about how to attain social media authenticity and excellence in five easy steps.
In the world today, everyone and their dog has a social media presence. Same goes for brands, celebrities, leagues, teams, athletes and also, my grandma. I AM FINDING IT HARD TO TELL WHO IS WHO ANYMORE!
Mucho Tweetos
Tweets are tweeted at a rate of over 350,000 per minute, grams are 'Instad at 48,611 per minute, and I guess you could say that books are 'faced at 31.25 million messages and 2.77 million video views per minute. It is no wonder that any and every brand, personality, and pet has taken to the net to compete for our eyeballs, support, and realistically our dolla bills (wait for the chorus). They have to be. It is an economical way to reach consumers in the comforts of their mobile devices. Lately, I have been thinking to myself: Is it really working? Or are these platforms massively overpopulated with carefully researched and curated content marketing that my eyes gloss over absolutely all of it?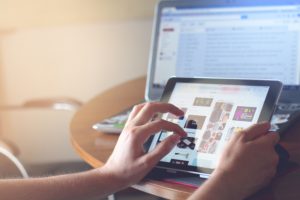 Toilet paper and the Badlands
Everything is going digital, and digital is getting uncomfortably personal. I have so many targeted adds coming my way for toilet paper that I once looked up on Amazon (no shame) that it makes me want to throw my phone/computer/tablet/fitbit/television/alarm clock/toaster off of my balcony. If I had a balcony, I am a student (full disclosure: I also don't own a toaster). Since when did these retargeting ads become a thing? Ps. are the internet people also spying on me through my webcam?
So exactly what portion of all of this is authentic?  The answer: WHO KNOWS?! It can't be a whole lot. Even when people try to get really real for a second on social platforms they run the risk of being reprimanded and forced into silence by the man himself (cue: Badlands National Parks). What gives?
Ray of Sunshine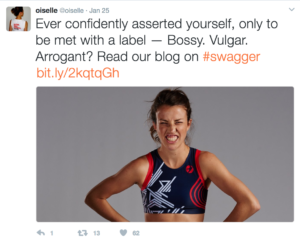 To bring this to a close in less of an existential crisis-y way, I wanted to highlight a modern day gem. Sally Bergesen is unapologetically and fiercely herself. She is the founder and CEO of oiselle; A running brand for women, by women and committed to empowering women. The Warsaw Sports Marketing Center MBAs had the pleasure of meeting Sally in her flagship store in Seattle earlier this month and what a delight it was. Support, community, equality and strength are words that come to mind when assessing oiselle's brand voice. Whatever it is that oiselle is doing, they should do more of it. Actively supporting women's rights, going up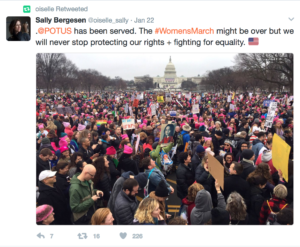 against the big dogs and Rule 40, and bringing a community of inspiring women together through a shared passion is a win in my books. Easier said than done though right?
Disclaimer
Now don't get me wrong, I am an avid social media user, online shopper and app tinkerer. Heck, I will definitely be working in digital marketing at some time or another in my future career (#SOJCssm duhhh). I just think that there has to be a better way that humans can engage with other humans via social channels. I do not have these answers, but I do think that companies like oiselle are on the right track of authentic and genuine badassary.