Kalie Browne | @kbfrommt | kaliebrowne.com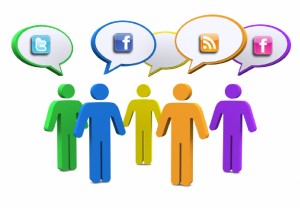 ---
We often read articles and hear news stories about how social media is negatively effecting society. We are bombarded with stories about cyber bullying, shorter attention spans, less personal interactions etc. And while many of those negative aspects have made an impact on the lives of the modern people, there are many positive aspects of social media that have made us all more connected and more informed individuals by using these platforms. We discussed many pros and cons in class and these are some of the ways that the pros have positively effected our lives.
The connectivity of it all
The world is more connected than ever before. People can now find their "birds of a feather" no matter where they are. There are discussion boards, Facebook groups, Twitter lists, and Tumblers to follow for I would guess almost any topic a person could find interest in. People are no longer limited to the conversations of their town or pen pals but can now connect, learn from, and discuss with, people from all over the world whenever they want.
The sharing of links, stories and pictures on to peoples feeds provides followers and friends with articles they might not have ever thought to look up or find. Not to mention the crowd-sourcing and crowd funding capabilities that have risen from and are enabled by social media like never before.
The information of it all                                                                                     
Personally, I get the majority of my headline news from Twitter. In fact, over 50% of people learn about breaking news on social media (http://socialnetworking.procon.org/). News can break faster on social media and the internet than it ever could on TV or newspaper because of its instantaneous nature. I can remember numerous times that I knew about something happening in my hometown before my mom did because I follow our local newspaper and radio stations on Twitter. Also, we now have the capabilities to reach out to experts via Twitter or LinkedIn for class, research, or general curiosity and there is a good chance of getting a response. In the same manner, people can ask questions and get quick customer service directly from a company on social media in many cases.
The moral is, if we were to all stick to being respectful and using these amazing tools for good, we could weed out all of the cons that are plaguing many individuals and unleash the potential that lies in an ultra-connected world full of knowledge, entertainment, and connectivity. And maybe this will take time as online social networking is still a relatively new concept in the human race.
What do you guys think? Is a world like this possible? Will social media evolve to have similar standards and ethics to the ones that we have face to face so that the pros outweigh the cons?
[If you are interested in a more in depth analysis of many pros and cons of social media, check out http://socialnetworking.procon.org]