By: Sijie Jessie Li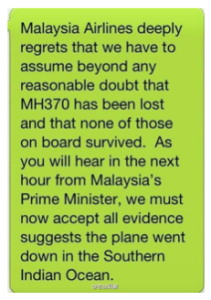 How would you feel when you get this text message after knowing you just lost your family because of an air crash? The Malaysia Airlines has been globally criticized because of its poor crisis communication after the crash happened. The text message on the left was sent from Malaysia Airlines to the families of the missing victims of flight MH370, when it disappeared on its journey to Beijing from Kuala Lumpur on Saturday, March 8th 2014, with 227 passengers and 12 crew members on-board. According to The Drum, the airlines claimed that most of the families had already been informed in person and by telephone, and that "SMSs were used only as an additional means of communicating." Seriously? A national airline chooses to use text message to communicate with families when faced with such a serious issue? Notifying families of something on this tragic is not only careless but is sickening to the people they should have taken the most care of to support. One of the ways to deal with upset customers in crisis communication is Speaking Like a Human, according to Andy Sernovitz. The only thing worse than ignoring upset customers is to respond with a canned corporate response.
There is no doubt that the Malaysia Airlines was dealing with an unprecedented situation, in an age where news travels faster, and trough more different channels than even Superhero could keep up with.
However, they made several crucial mistakes that could have been avoided with the right strategy. Here are two of them:
1. Respond Quickly. While facing negative word of mouth, time is not on your side. The longer you wait to respond, the angrier the customer will get, and the more possible others will pick up on the issue and spread the negative buzz. "For evil news rides fast, while good news baits later," quote from John Milton. The Malaysia Airlines didn't act swiftly enough, nor did they stay on top of the issue by providing updates, or even just communicating. A mysterious situation like this is a ready-made media firestorm, making it all the more important to communicate continuously and consistently.
Have a plan in place. You can't predict what kind of crisis will strike, of course. But if your reputation is damaged, you need to have a plan to handle the fallout and repair the damage. The Malaysia Airlines was not adequately prepared. For a "crisis" like this, they should have a basic plan of operations and way of communication. This should be a system that can be put in place with modifications if needed no matter what form the crisis takes.
It's been over one year since the tragedy happened. The Malaysia Airlines still and will continue to deal with the reverberation of this tragedy for years that lie ahead. How would you suggest they change the course of their communications now and begin to repair the damage that has already been done to their overall reputation?