By: Tom Bridger
If you're like me, you use social media to keep up with your favorite athletes, teams, and the nightly gold mine that is "NBA Twitter". The Washington Post recently summarized NBA Twitter in an incredibly apt description: "A sports bar that doesn't close, where the stars pull up a seat next to you". The phenomena that is NBA Twitter was mentioned in an earlier blog post, but I want to dive into how teams are leveraging the success of NBA Twitter to elevate their own brands.
The NBA is the most tweeted about sports league, with more than 100 million tweets per year. More and more, fans have one eye on the game, and the other on their smartphones, constantly refreshing for new content. You simply cannot miss a day of NBA Twitter, where there might be a new feud, teams trolling one another, or an NBA player finally taking the bait and responding to a fan. NBA teams Twitter channels need to do more than just show highlights or tweet about game scores, they need to embody the brands desired voice.
NBA teams that have done the best job on Twitter are those that are leveraging the established brand of "NBA Twitter", while also including their own authentic voice. Below I have outline three teams that do a particularly good job of leveraging their brand on Twitter, as well as the reasons why.
The Portland Trailblazers, Twitter following: 1.2m
Far from the largest Twitter following in the NBA, the Trailblazers do an impressive job of elevating their brand through their Twitter feed. They have the largest engagement stats of any team, and maintain a brand voice that is oh so Oregon: genuine, cheeky, weird, and fun. They are on point with their created content, whether that be funny memes/gifs, poking fun at other teams, or even wallowing in their own misfortune as seen below. Twitter allows them to speak with an authentic voice, giving the fans the feeling that they are a living, breathing brand.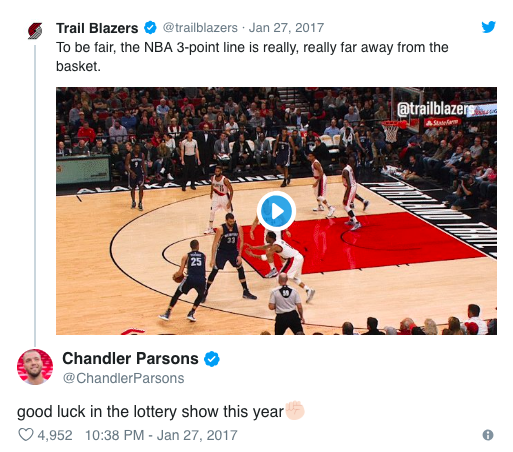 The Golden State Warriors, Twitter following: 6m
Having won three of the last four NBA championships certainly helps a brand, but the Warriors aren't resting on their laurels. As the team with the highest digital revenue generation, the Warriors used analytics and research to discover where their fans were (a shocking 11m of their Facebook fans were from the Philippines), and how to create valuable content for them. Through better understanding their fans, they are able to leverage valuable partnerships with brands that share the same audiences and values, while remaining authentic. It will be interesting to see if their social media success will continue after their current dynasty has ended…
The Toronto Raptors, Twitter following: 1.8m
My beloved Toronto Raptors (I am a token Canadian at UO) leverage social media to appeal to their diverse fans across the entire country of Canada. What the Raptors do particularly well is their ability to mimic the wildly popular brand voice of NBA Twitter – funny, cheeky, challenging, daring, and fun. Whether its congratulating their just recently coach for winning coach of the year, or poking fun at another teams tweets (image below), the Raptors mirror the light hearted nature of NBA Twitter, making them digestible and relatable to any NBA fan.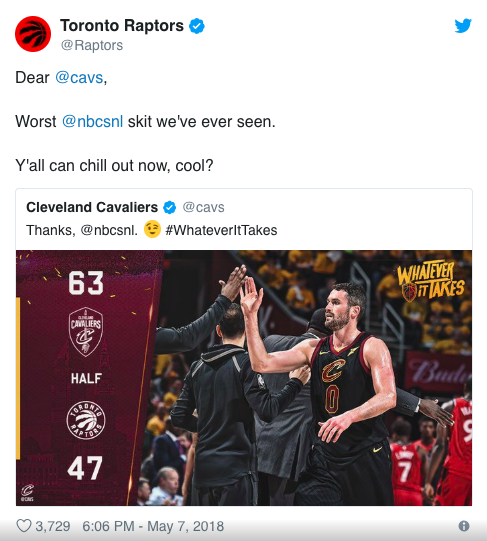 Ultimately, it is at the discretion of each teams' social media management to decide how their team is going to portray itself on Twitter. But to not take advantage of the medium to enhance their brand is a lost opportunity. Although the NBA had to step in to quiet some of the trash talking happening among teams… NBA Twitter still provides a platform for brands to flourish with creativity, authenticity, and fan engagement.
Twitter: @tommybieman
IG: tommybieman
LinkedIn: https://www.linkedin.com/in/thomas-bridger/