By Katie Birrenkott (@birrenkott), Lissa Steffen (@ohheylissa), Sean Willcox (@SeanWillcox_10)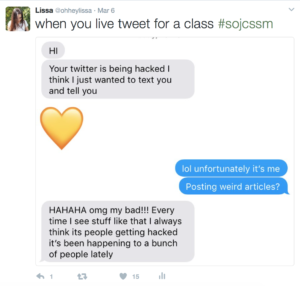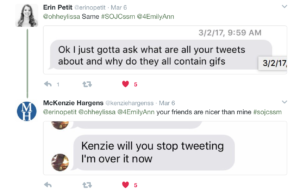 Basically sums up every SOJCssm Twitter recap thus far. People in the real world can't handle our tweets and our talent for perfectly pairing a tweet with gifs. #LifeAsAJStudent, am I right?
During Monday March 7th's class, Kelli Matthews enlightened us all on how to reach out to audiences through sponsored content and how brands can benefit by creating and promoting sponsored content. You know it's going to be a not-so mundane Monday when the professor starts class by announcing she's running on DayQuil.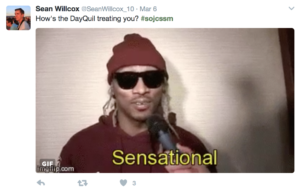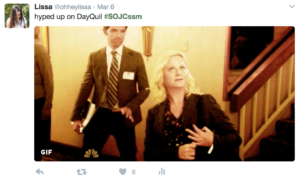 Kelli began lecture by claiming that "the rumors of Facebook's death have been greatly exaggerated". As a brand, Facebook is still one of the more important social media platforms to be present on. Ads on Facebook provide your company with the most bang for your buck of any social media platform, and by spending just $1 a day on Facebook ads your brand can reach 4,000 additional people who would not have seen your messaging otherwise. While the average Facebook user is increasingly using the platform as a newsfeed rather than for publishing their own content, it's still an invaluable resource for marketers. Facebook ad revenues exceeded $12.5 billion last year and it remains by far the most popular social media platform globally with more than 1.8 billion users, as compared to "just" 319 million worldwide users of Twitter.  While the organic reach of sponsored content has dropped across all platforms, great content still gets great reach. Kelli emphasized that content matters now more than ever, and quality content remains the best way to cut through the noise of social media and grab people's attention.
Before running a Facebook ad campaign, your organization should ask itself these questions: What are you trying to accomplish? Do you have the correct assets? Who are you targeting? What's your budget? Facebook ads can be broken down into three types: awareness, consideration and conversion. Awareness ads are all about increasing the reach and brand awareness of your organization. Reach can be understood as the number of eyeballs that actually see your ad. One of the most popular types of Facebook awareness ads is the local awareness ad, which uses geo-targeting to place ads for your organization on the feeds of people in your local region. Consideration ads seek to drive traffic, engagement, app installs, video views and lead generation. And Conversion ads are the holy grail of social media, they involve getting people to actually buy your product. When in doubt, engagement ads are the safest and most basic option for most organizations.
Facebook ads can be managed using two different tools: the simpler, and more basic Ads Manager (facebook.com/ads/manager), or the more in-depth Business Manager (business.facebook.com). Kelli spent a significant amount of time in class demonstrating how to use Business Manager to target specific audiences for your ads. There are roughly "a billion" ways of targeting people on Facebook according to Kelli, and we went through the process of narrowing down the target market for an ad placement by Will Leather Goods. Truly mastering Facebook's algorithms is an impossible task, and Kelli advised that "you can't control the waves, but you can learn to surf". After this, we concluded class by doing a fun activity where people searched for sponsored content on their Facebook feeds and tried to identify why they were seeing that specific ad. Almost across the board, the ads that were popping-up on people's feeds made sense considering their browsing history. So while some people in the Twitter conversation expressed reservations about Facebook's surveillance of its user's habits, for advertisers the lesson is clear that Facebook's algorithms work to successfully get their product in front of the right eyeballs.
As a bonus poll, Sean asked the class which platform their clients have identified as their most important tool. Facebook won the poll at 50 percent, proving that Facebook truly is not dead.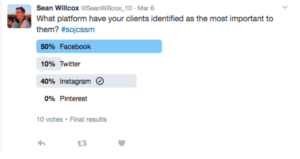 Top Tweeters  
@SeanWillcox_10 (17 tweets), @birrenkott (14 tweets), @oliviadeterman (9 tweets)
Most Reach – @kmatthews (7,997 reach), @amandaalam (655 reach), @KatyEdington (400 reach)
Most Timeline Deliveries – @kmatthews (47,982 timeline deliveries), @birrenkott (3,598 timeline deliveries), @oliviadeterman (3,195 timeline deliveries)
Total Tweets – 114
Total Contributors – 30
Tweets with media – 39
Tweets without media – 75
74 percent original tweets
21 percent @messages
5 percent retweets