By: Sarah Borchardt (@sarahborchardt7, linkedin.com/in/SarahBorchardt)
The Oscars. An anticipated, incredible, and rewarding evening for all film, fashion, and pop culture fans. I have to admit that I, myself, am not an avid film watcher, and hadn't even seen a single one of the movies up for awards (I know, not even La La Land). However, I still watch this awards show every year simply to stay in the know and understand the memes I see on Twitter. Oh, and the fashion.
The 2017 ceremony took a surprising turn when it came to the Best Picture award, however. Announcer, Warren Beatty, mistakenly opened the envelope for Best Actress (which had been given to Emma Stone for La La Land) and announced that La La Land had won the award.
If you haven't seen the cringe-worthy moment when the La La Land cast realized they had in fact not won the award while already on stage, watch it here and then check your Twitter feed for some hilarious jokes and memes (since it's 2017 and turning bad moments into jokes is essentially a coping mechanism, which I love).
In this moment, the second thing that came to my mind (after the jokes) was "What a great moment to see how the PR team handles a crisis". While we are still waiting to see exactly everything that will be done, I am a firm believer that this is going to be a great moment for social media. I'll start with this example: the Twitter account for Miss Universe, a brand that has faced a similar crisis, was already able to make an epic social media moment out of what happened.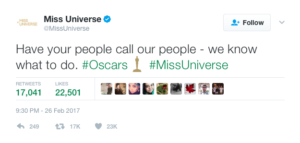 Crises within any brand can be a huge moment for positivity and change on social media, although at the same time they can do just the opposite. Looking through the official Oscars account, @TheAcademy, on Twitter, they have not posted anything acknowledging the mistake just yet. While one option during a crisis is to remain silent, I believe in this case the Oscars and The Academy could use this moment to their advantage and turn it into a positive one for their brand and 2018 show.
Apologize for this mishap, but spin it into humor. Use those Twitter trolls to your advantage but also congratulate Moonlight for their deserving (and historical and ground-breaking) win. This is a moment no one is ever going to forget, so why not take it and run with it before someone else does?
As a college student studying PR, I live for humor on Twitter and LOVE when a company is able to make an appropriate joke on their social media; it engages me. A crisis of this caliber is the perfect moment for this, La La Land handled the moment with poise and there truly isn't anyone else out there that wouldn't appreciate a good old Steve Harvey-esque moment on @TheAcademy's Twitter feed.
So far, all we can see regarding the Best Picture award can be seen below, and in my personal opinion, I would love to see much more done before this situation becomes just a simple part of Oscar history.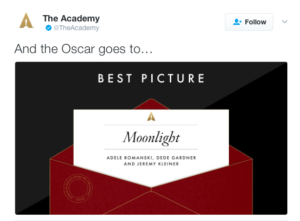 Now, just to wait on what craziness the 2018 Oscars will bring us…