By: Sarah Borchardt (@sarahborchardt7), Brittany Melo (@MeloBrittany), and Cyrus Heffernan (@czheff)
Class on Monday, February 20th was full of discussion of our final projects, best practices for our client's social media, and lots and lots of GIFs.
Class was short but spirits were high as we discussed the possibilities of all we can accomplish with our clients on their finals projects. A real highlight for us all was when we realized Kelli had accidentally left MySpace as a platform to analyze for our clients (it still exists?)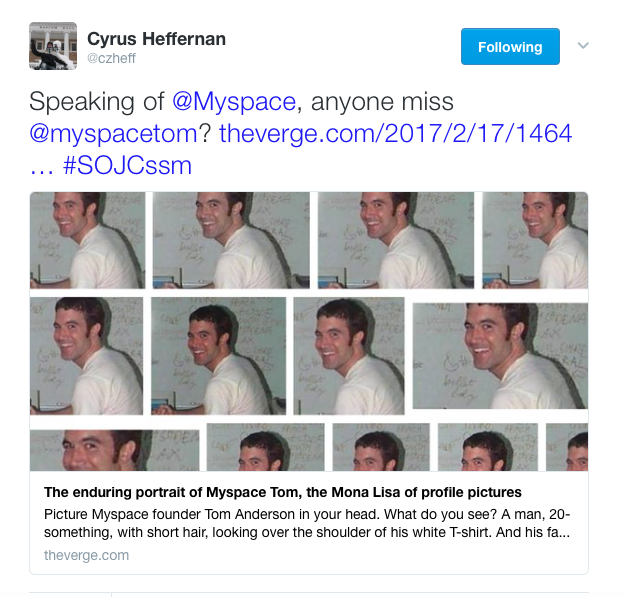 (Check out Cyrus's Twitter: https://twitter.com/czheff)
After some reminiscing, we realized MySpace was not actually going to be one of the platforms we needed to dive into for our clients (we'll miss you, Tom).
As a class, we then began to discuss best practices and what inconsistencies we should be searching for with our clients. After some discussion, we realized this is a conversation that could go on forever. This felt like a moment of encouragement, however, because the excitement in the class to begin searching for this fixes for our clients was high.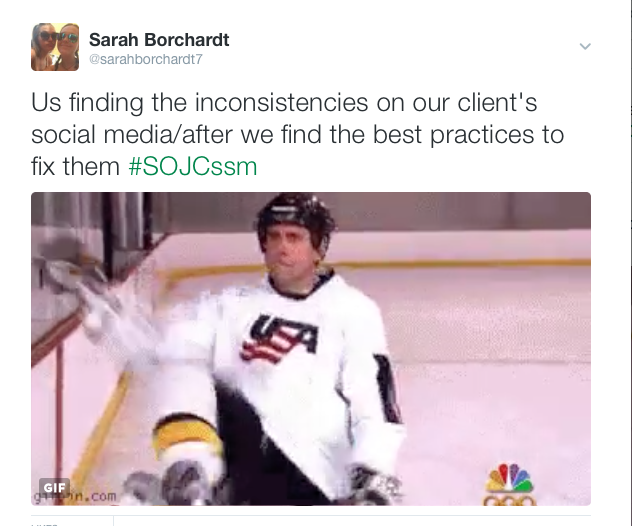 (See full GIF at https://twitter.com/sarahborchardt7)
The moment when we felt the class's spirits fall to the wayside was when Kelli mentioned data, and the dreaded way to present it, Excel. The general consensus seemed to be that the research for the data is far more exciting than the presentation of the data, which we would have to agree with. However, data is exciting, and practice makes perfect on Excel!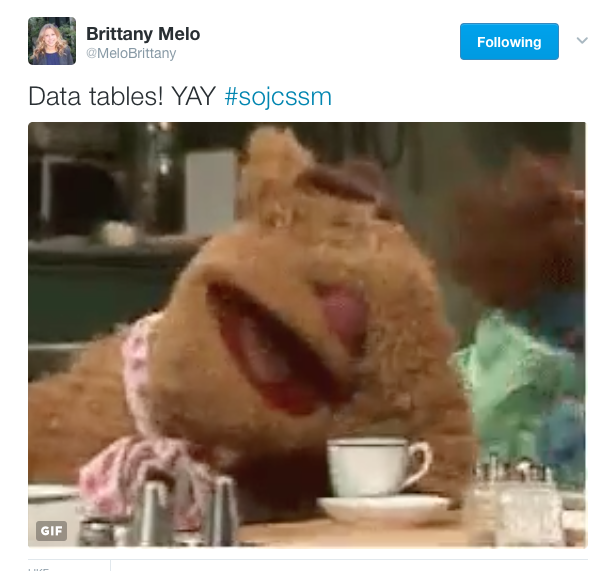 (Check Brittany out at https://twitter.com/MeloBrittany)
Meeting with our groups, we couldn't be more excited to get started with our clients. Whether we're researching the SF Giants @Cafe, Red Wagon Creamery, or our very own university, we know there's work to do and we can't wait to do it. Happy data searching!
Speaking of data, we gathered some from our own tweets from Monday's class, and we hope you find it interesting. (Shoutout to Olivia Determan for having the highest amount of tweets outside our group!)
PS. We hope you enjoyed our GIFs.
Tweet Results:
The tweet count totaled 58 tweets from 27 contributors, with a reach of 14,714. That total consisted of 44 original tweets, 10 @message tweets, and 4 retweets.
45 tweets originated from the Twitter web client, 10 from iPhone, 2 from the SOJCSSM Blog, and 1 from iPad. The top contributor was Cyrus Heffernan, with 9 tweets, followed by Olivia Determan with 8 (though the wonderful Kelli Matthews had the highest reach, at 7,967).
The class was GIF-crazy today – 39 tweets, 67% of the total, contained media, most of it relating to the class' enthusiasm for data. (Insert sarcastic GIF here.)
Only 7 tweets contained links, compared to 51 without.