By Kelsey Munger
It's no secret that TikTok has taken over as one of the most popular social media apps of the decade. With over 37.3 million Gen Z users alone, it has quickly become a massive influencing platform.
While there are numerous amounts of ever-changing trends on TikTok, one of the most popular ones are "hauls". In fact, #haul has over 19.9 billion views alone. These are videos that users post to show off copious amounts of items that they purchased at one time. Hauls can be of clothing, food, or even just ordinary household items from a store such as Target.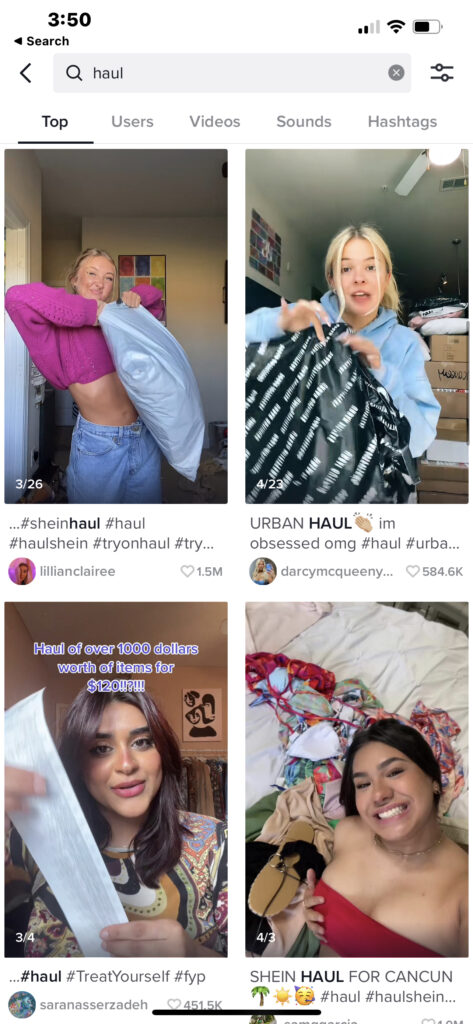 No one can argue that it isn't fun or exciting to watch these videos to see what other people have bought. You may even want to buy the same thing for yourself! But unfortunately, this can send you down the rabbit hole of consumerist culture.
Consumerist culture has become fueled by social media and Gen Z has become affected by it the most. Excessive materialism, especially in fashion, is encouraged by social media as TikTok users get showered in likes, comments and follows for showing off what material items they've purchased.
Overconsumption is a consequence of consumerist culture. In fact, on average, Americans are purchasing nearly 70 pieces of clothing annually, or more than one new item per week. A large factor of this is the rise of fast fashion. Fast fashion speeds up the consumption of fashion, and brands "have massive amounts of clothing and can ensure that customers never tire of inventory".
Some popular fast fashion brands on TikTok include Zara, Princess Polly, and Shein. These brands cut production time, in order to replicate fashion trends as they appear in real-time and are priced extremely low. In turn, this causes a detrimental environmental impact and unfair wages to factory workers.
So with all of the negative consequences of fast fashion, why is the generation that is so connected to social causes still buying from these companies? Fast fashion thrives online and we all know that Gen Z lives there. With its low prices, easy return policies and free delivery, consumers ofter get instant gratification from their fast fashion purchases. Consumers are recommending clothing and given direct links to purchase them from influencers when they view fast fashion content.
Internet culture and the obsession with social media paired with consumerist culture should be to blame for the rise of fast fashion and TikTok has, unfortunately, become the platform encouraging it the most.