By Kailey Krueger
In December, the hit HBO show Euphoria returned for season 2. This series portrays high school teens along with all of the violence and drug use in their lives. Even though the show is known to be pretty dark, the fashion is unbeatable. Each character has a signature style and makeup look to match their persona. There has been a lot of talk about the show online, along with the makeup and fashion it initials. In an article about Euphoria fashion, Heidi Bivens the costume designer, talks about how she decided to choose outfits for the different characters and how they chose specific items to match their personalities.
The directors do an amazing job creating a sense of normalcy for the viewers which causes so many people to relate to it. The Clothing designers purposely used vintage clothes to make it look like the characters actually built up their closets instead of styling them in name brands and designers. Fans took these new outfits and makeup designs to social media and this trend has sparked a new age in the fashion and beauty industry. The characters are known to wear bright colors, glitter and rhinestones. These trends even carried into Coachella fashion this year with a lot of influencers and celebrities. It became popular to dress up as characters for halloween or different events and themed parties. Fans also started to record themselves with flashy outfits and they acted as if they were on their way to class at Euphoria High School. This became one of the largest TikTok trends prior to the new season of the show.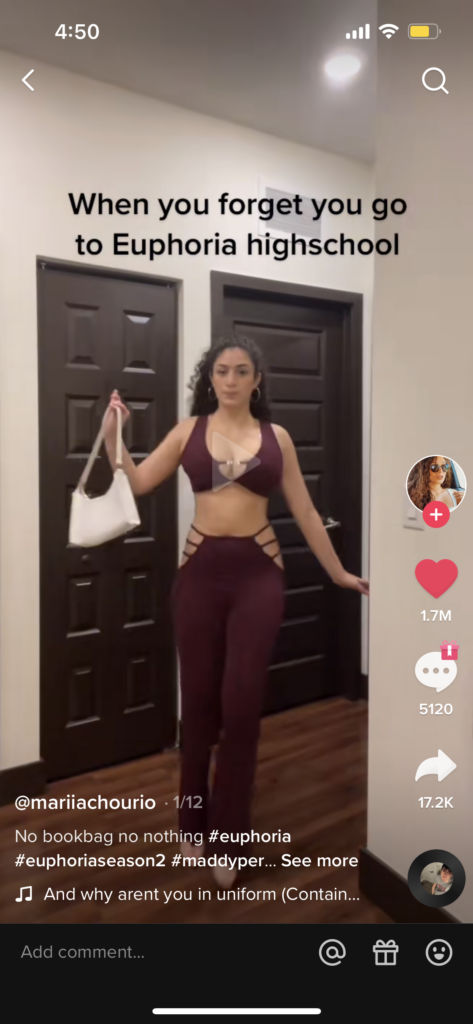 Many people chose to take part in these trends to recreate Euphoria outfits and makeup which created a huge desire to watch the show. Even if someone had not seen Euphoria, they still know what the clothes and the makeup resemble. The designers made sure to make the outfits stand out in a way they would be remembered. In an article, the director explains how they chose to use high street and mid range brands as well as alternative fashion labels so they are easily accessed. Bivins the director mentioned "What's interesting, is that every single item that we see on the show can be found online, and almost all of it has already completely sold out." This is a great way to get hype and interest over a show because now everyone wants to take part in this new fashion wave.