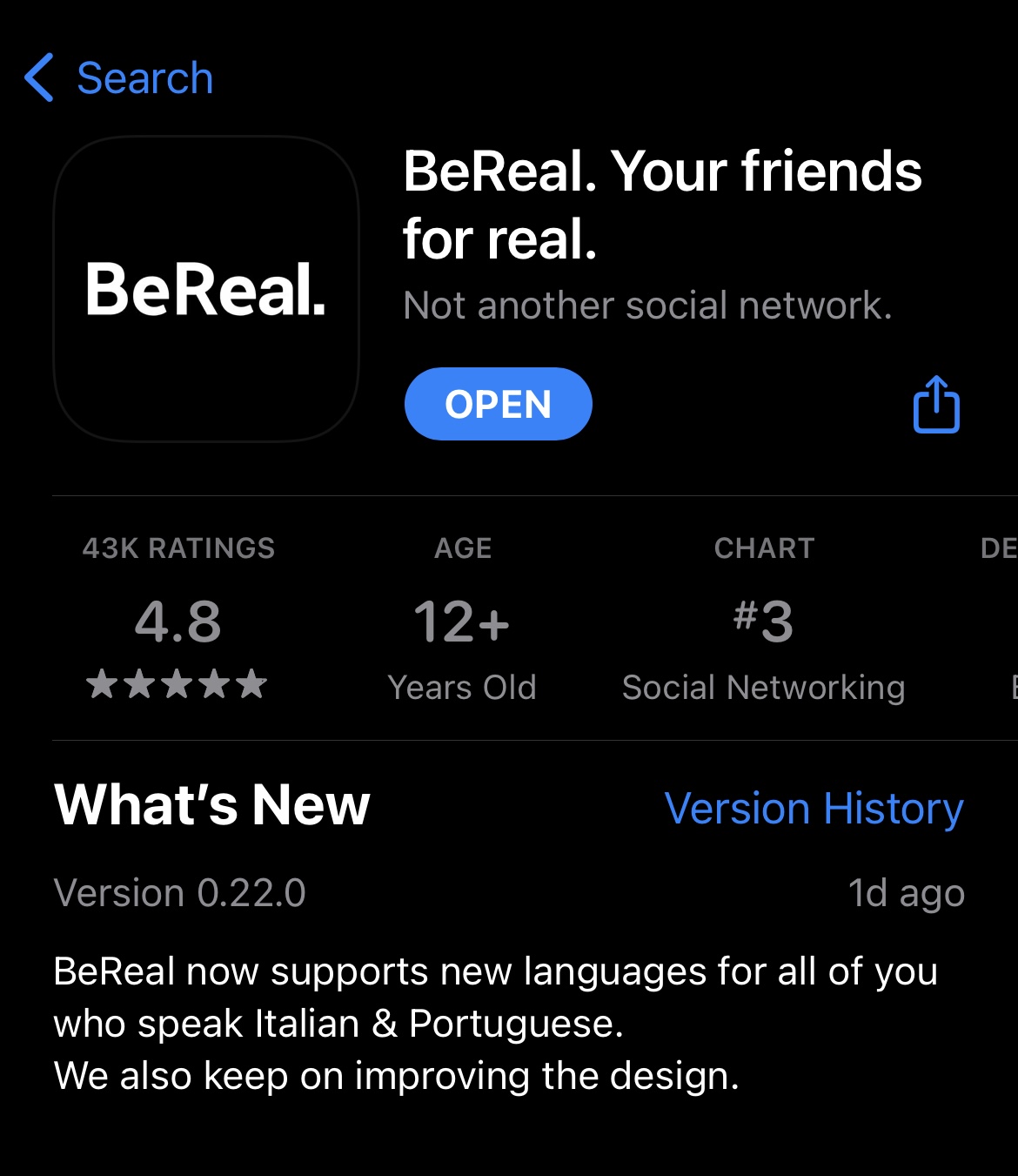 The endless scroll through social media apps such as Instagram and TikTok has quickly evolved from casually sharing your life to brand deals, influencers, and curated posts. When TikTok successfully blew up, many like myself wondered what the next thing would be.
Then came BeReal. BeReal is a french social media app released in 2020 and has gained a significant amount of popularity in 2022. The app notifies users to take a picture of what they're doing at a randomly selected time each day within a two-minute window. When taking the picture, it will first capture a photo with the back camera and with the front camera immediately afterward. It's common to see people in class, at work, on a walk, or even in bed. Your life isn't supposed to look interesting or cool on there. The app then contains a feed where users can see what others are doing too, but only after one posts themselves to encourage engagement. "Despite its direct demands, the app doesn't ask for much," said Calla Kessler for the New York Times. Users can interact with each other's posts by commenting or reacting with a photo of your face. The app has low stakes — see the notification and share what you're doing.
BeReal is a breath of fresh air when it comes to social media. Apps like Instagram and TikTok are now filled with ads and planned posts that nothing seems genuine anymore. In past conversations to "make Instagram casual again," people's efforts to ditch the excessive filters and content is seemingly unsuccessful. Oftentimes Gen-Z users specifically, post random objects and memories without filters or poses and deem them authentic. Nevertheless, it's still curated and there's still extra effort put into these "effortless" photos. So can we really consider that real?
I think that BeReal is successfully achieving an authentic lens of sharing a small piece of your life with others. There's not too much to it, and I don't find myself endlessly scrolling through the content I don't want to see. If I am being honest, I get excited receiving the BeReal notification. "Did the BeReal hit already? What time do you think the BeReal will hit? 6 a.m.? 2 p.m.? 9 p.m.?" is a common conversation held between me and friends.
Because of the extreme success that BeReal has had in 2022, I am curious if it will remain as simple and authentic as it is now. Its low stakes are what make the app enjoyable to users, but with an increase in revenue and popularity, who knows what will happen next!