By McKenzie Burnett
Since the launch of the app, Tik Tok has become a platform where you not only watch funny videos but a platform where you can learn sign language, learn to grow plants and vegetables, hear the latest gossip about your favorite celebrity, and most importantly it seems to show what the latest trends are in fashion and home decor. With society being a trendy, follower specific site, it is no joke that almost half of Tik Tok users have purchased something through the media platform or because of the platform. Here are three ways Tiktok has opened your wallet and increased its power over product purchases.
The first and biggest money drop is due to the never ending fashion world. Fast fashion has never been faster with the use of the trending #tryonhaul that has become quite popular on Tik Tok. This is not restricted to anyone either. Influencers, reviewers and even the 90 year old grandma have taken stage to show their purchase hauls and their reaction to products. It has also created a way to support cheaper alternative options to the expensive name brand items that people desire to own.This seems to be an at-home runway that makes viewers run to their favorite in-person or online store in a race to purchase that item or even something similar.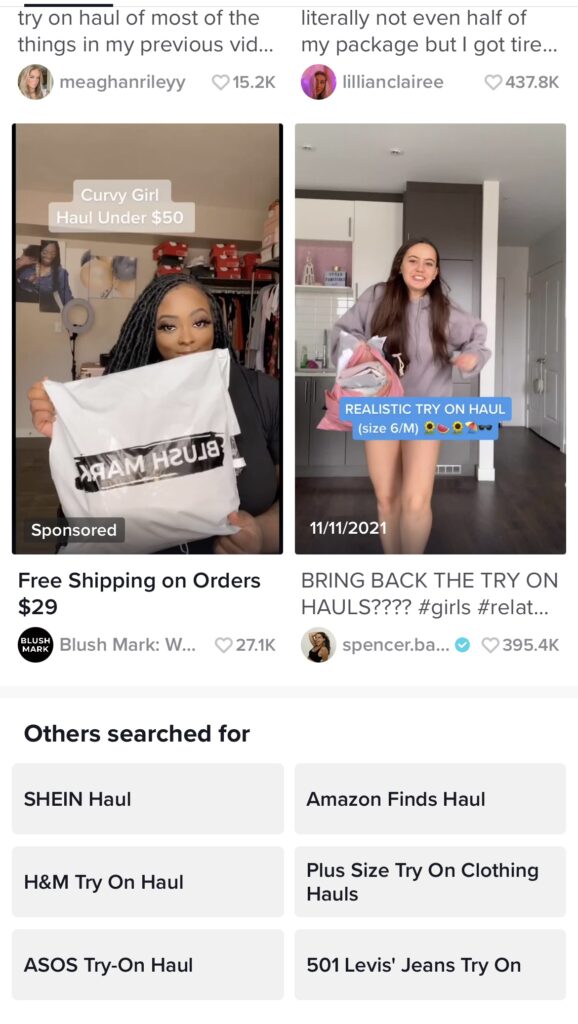 Another trend easily catching coin is the #Tiktokmademebuyit craze. Every day people will post items they use and recommend the product by showing it in use and how well it works or looks.The algorithm seems to set up people who have liked a product and show them similar ones, creating a labeled section of Tik Tok. This is where you can find CleanTok or SheinTok and a multitude of various products being tried and reviewed. With easy access to online shopping and the ability to list the specific item in your Tik Tok bio, it has never been easier to find the items in your cart in the matter of seconds.
The third way that the free app has charged the bank is by supporting influencers who review a large spectrum of products. Some of these influencers are known for their #buyorbust reviews on products ranging from workout leggings to Scrub Daddy sponges. It has allowed them to create a large follower base giving them the certified blue check. A big issue that is starting to happen now though is that companies have caught on to the influencer uprisings that the app has created and they are now sponsoring people to show product to the reviewers once loyal followers. While this may seem fine, the people are catching on and are backing away from sponsors labeled Tik Toks and the creators by asking for a real review of someone who isn't paid to say good things.
Nonetheless, people are still watching and buying. Tik Tok has created a brand in itself when it comes to how people are starting to spend more of their money. But is it really worth the purchase or were you better off keeping your wallet closed? I guess Tik Tok will have the answer.