By, Marin Emrick
I remember when the pound sign suddenly became a hashtag upon entering the world of social media. It quickly morphed into a must have on every post to highlight like minded information or introduce a new conversation. Tabs labeled "Explore" on Twitter and "Tags" on Instagram were created to specifically narrow down searches of specific hashtags. Thus, the hashtag became an effective social media marketing tactic.
There was a booming period for a while in the first few years of the hashtag where every post seemed to have it included and specific functions were being released on social media to cater to its popularity. It was new and everyone wanted to use it. Today, I notice less individual use of hashtags on personal accounts. However, this doesn't mean it doesn't remain a highly useful tactic for a business's marketing plan. Due to this trend being up and down over the years of its existence, I feel it important to recognize the benefits hashtag use brings to a brand.
Here are a few advantages to the use of hashtags:
Increases discovery of brand
Including hashtags with your post immediately places your brand in front of more eyes than it would otherwise. By using popular hashtags, anyone that goes to filter their search that way could potentially view your content. Regardless of the size of your business or your number of followers, it will increase your chance of connecting with the public. The key is to use the right hashtags that people will actively engage with.
Provides an opportunity to join conversation
By looking at the discover page on Twitter, you can see what the hot topic is at the moment and the hashtags that are associated. Using the trending hashtags gives your brand a chance to join the conversation and gain great exposure. It not only shows that your brand is involved with topics that people care about but also increases your overall audience. If more people see your content it creates a greater potential of it getting retweeted and gaining even further exposure of your brand.
Here is an example of how Twitter represents trending hashtags: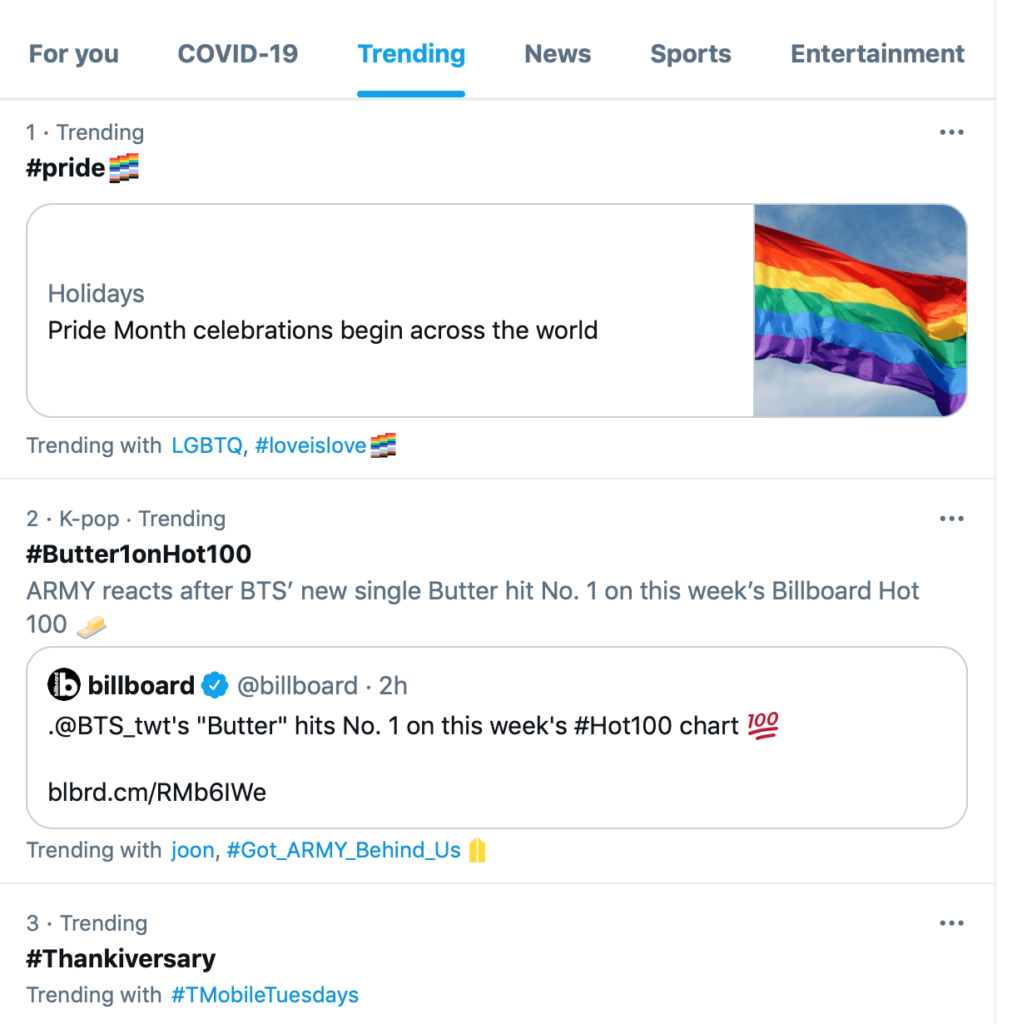 Engages the public with your brand
Creating a catchy hashtag to go along with your post opens up the possibility of others using that same hashtag and beginning a trend centered around your brand. There are many instances in the past where a hashtag campaign has gone viral and contributed towards a large increase in engagement and exposure.

Here are some examples of successful hashtag campaigns:
Coca-Cola- #shareacoke
Coca-Cola launched their #shareacoke campaign in which they placed a selected name on each of their bottles with the intent on someone being able to share their drink with their friends and family as they drank it. Along with this campaign they included the use of the hashtag #shareacoke. This campaign was very successful and is a great example of how hashtags drive engagement.
2. L'Oreal- #worthsaying
L'Oreal launched this hashtag at the time of their collaboration with the 2016 Golden Globes. The intent was to have the public engage in further conversation about sharing stories from every aspect of their life stemming from their tag line "because you are worth it." The campaign resulted in an extensive amount of engagement including celebrities, Blake Lively and Jennifer Lopez, that drove use of the hashtag.