By: Danielle Ng
With the continual growth and popularity of the video social media app, TikTok, users and people alike have begun viewing popular "TikTokers" differently: as celebrities.
Something that makes TikTok stand out from all other social media platforms is how fast trends come and go. One day, there could be a trending video of Noah Beck doing a dance to the song "WAP" and the next day, the trend is The Backyardigans song "Castaways." This process of knowing the trends makes for a more aware tiktoker because in order to stay relevant, they have to constantly be creating content that is trendy, or they have to make the next trend. This new breed of celebrities are intelligent, creative, problem solving and can even have a business plan in mind of what kind of brand they have created for themselves.
Tiktokers like Charli D'Amelio, Bryce Hall and Addison Rae are becoming the next breed of celebrities. Most of these influencers got their start from TikTok and without would have a completely different lifestyle than they do now. This goes the same way for content houses. Groups like Hype House, Sway LA and the Triller Compound have even gained enough following and recognition to have their own forms of reality TV on various platforms. Even now, there is continuous "beef" among this community that has led to the "Youtubers vs. TikTokers" boxing fight that is supposed to take place in June with headliners Bryce Hall and Austin McBroom.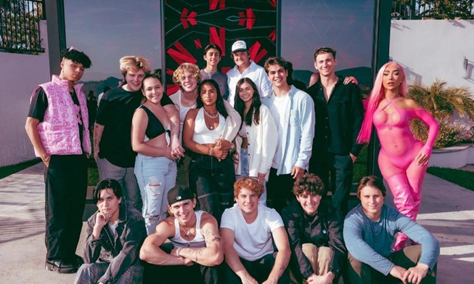 This new idea of a celebrity is completely different than what everyone is used to. They get paparazzied on the daily while they are doing normal, mundane things. The popular YouTube channel, The Hollywood Fix, feeds the demand for superfans. Fletcher Greene is the man behind the camera and uses deception, truth telling, repetition and even invasion of privacy to get information out of them. Greene has been following most TikTokers since their initial claim to fame, and still continues to follow them around until he gets what he and his 1.88 million subscribers want- an in on these celebrities' lives.
There is so much attention and focus on these celebrities now, and the world we live in now is so fast-paced that they have to be constantly thinking of the next thing to do. Most tiktokers are starting to branch out beyond the platform and making a whole brand out of themselves. Here are some examples of people doing just that: Charli partnered with Dunkin' for "The Charli" drink; Bryce Hall and Josh Richards have an energy drink company, Ani Energy; and Addison Rae will be in an upcoming movie remake of She's All That.
It's impressive to see how this young generation of influencers are able to work and create content and reimagine what it means to be a celebrity now a days.
https://www.instagram.com/daniellelrng/