By Chase Ford
Using social media during a crisis is a fast and effective way to reach your stakeholders and minimize the potential impacts of a crisis. For social media to be effective in a crisis plan, you should set out a clear social media procedure. This procedure should include when, and how often your company is going to be issuing updates and what information will be shared. Being timely is one of the most important things to consider during a crisis. Since there is an overwhelming number of participants on social media if you don't tell your story first someone else will. In turn, this can bring more issues to the table, as you will lose control over your story and what information is distributed.
Consider Boeing, after a long few months dealing bad PR from the 373 max, it should be obvious to have an effective social media crisis strategy. When a Boeing 737-800 crashed three minutes after take-off in Tehran, Boeing had failed to utilize social media to effectively communicate this crisis to its publics. As seen on Boeing's twitter, the first message came out at 8:30 p.m. pacific standard time when the plane crashed 6:44 p.m., 6:14 a.m. local time. That left two hours for the public to react, form opinions and for social media to construct a narrative around the crisis.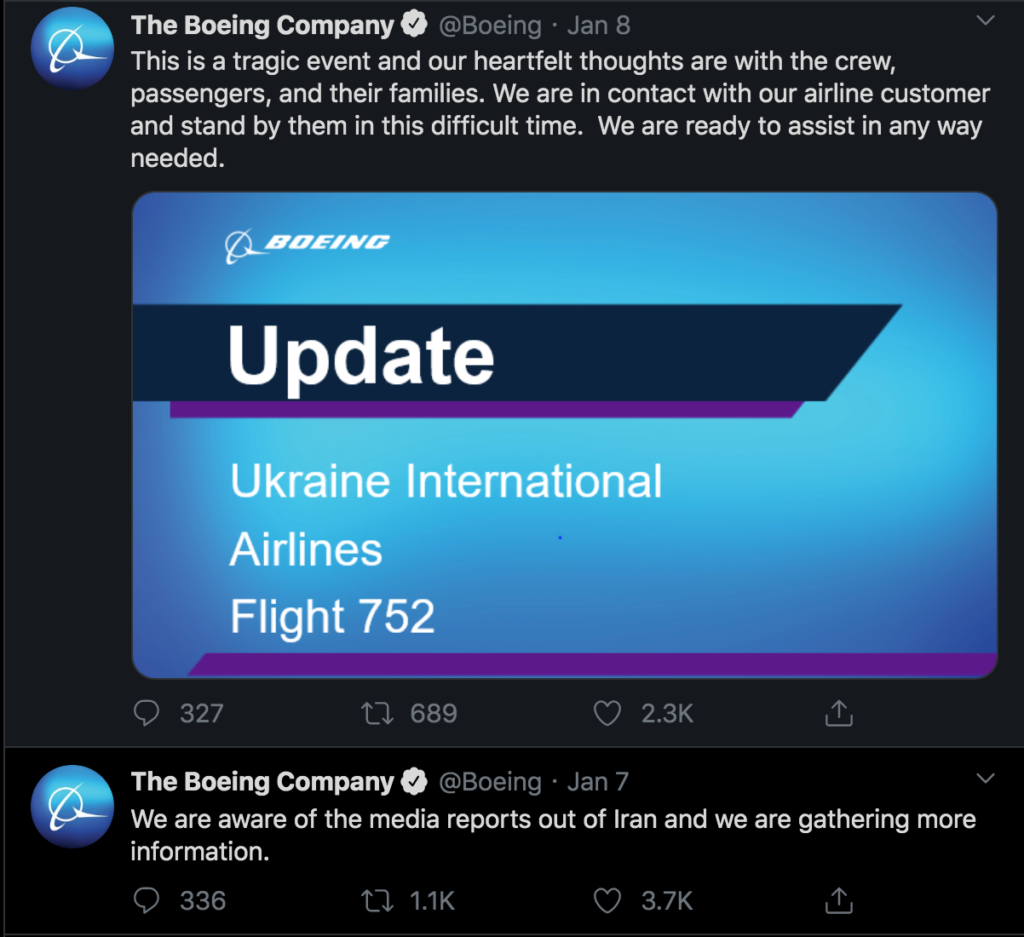 As TV news networks picked up on the story and obtained new information, Boeing had yet to release any update, which was met with massive backlash in the replies. As expected it got to the point where Boeing potential could not have controlled the conversation, even if the company had tried. Seven hours after the initial statement from Boeing, the company released a statement of its condolences. Boeing had still neglected to provide its publics with any new information surrounding the event.
At the time, there was political conflict between Iran and the U.S. which may have prevented a steady flow of information to stakeholders. However, the story was still running on almost every major news network, with timely updates and professional opinions on the situation.
As the mantra of crisis communication goes, "tell it first, tell it fast, tell them what you're going to do about it." Boeing elected to stay relatively silent during this event which ultimately caused more backlash than it had already been facing. Any comment from the company would have been better than no comment. In this situation, Boeing should have been more prepared and better equipped to handle a crisis and deliver timely updates to its publics.