By Kyra Flynn
As many are already aware, the world was shocked upon the announcement of basketball legend Kobe Bryant's fatal passing. In response, many took to social media to grieve and pay tribute to Kobe and the other lives that were taken in the accident. One of the few companies to speak out in the midst of this frenzy was The Tron Foundation. The blockchain company had tweeted a tribute to the late basketball player, stating "Kobe is a member of the TRON Family. As such, we will be dedicating @niTROnSummit's festivities to his legendary life & legacy." The tweet was posted on the same day that the news was announced. Consequently, this post sparked quite a bit of controversy online.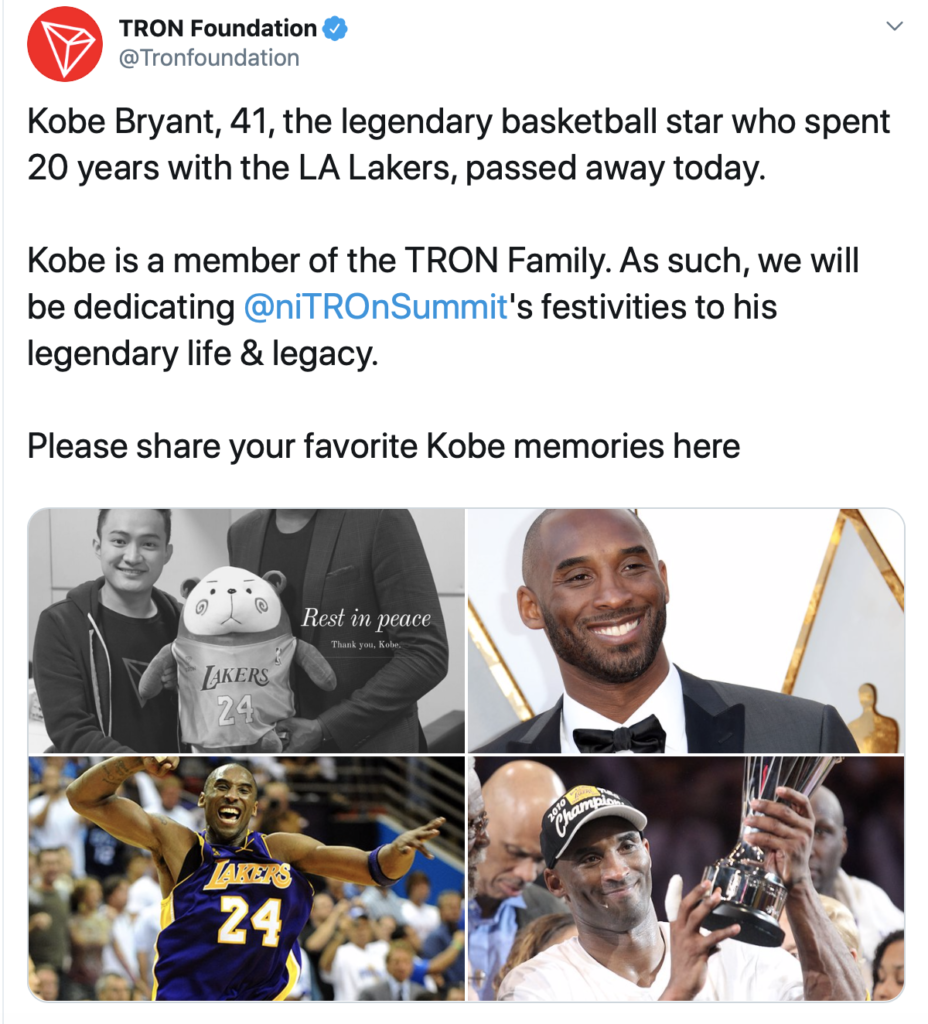 According to a New York Times article, "Mr. Bryant's only public interaction with the company was a speaking engagement at its 2019 conference". With this in mind, many responded negatively, claiming that Tron is opportunistic and using this tragedy as a chance to promote and advance their brand. Additionally, it was also argued that the tweet was posted too soon and that the company should have waited to take to social media. In response, Tron addressed the criticism by claiming that the tweet was sincere and that it was the right thing to do.
This sparks the question: is it ethical for companies to speak out after a tragic event, even if it is out of good intention?
In the aftermath of a significant event that occurs, it is common for companies to automatically jump to social media and merge themselves into the news cycle. However, when it comes to the tragic death of a celebrity, many brands fail to consider ethics and think twice before posting any kind of tribute that may come across as a marketing tool. Several companies in the past have made the mistake of posting tributes to celebrities who have passed in an insensitive approach. Such examples include Cheerios and Hamburger Helper, who received backlash for inserting their brand into tributes that they posted about Prince after his death. Due to the backlash that companies have faced for this reason, they have thus learned to be cautious when approaching news cycles during such a sensitive time when many are grieving. While TRON does make the point that it was important for the company to pay tribute because they felt that it was what they needed to do, it is also crucial for companies such as TRON with the same intentions to consider the circumstances and be conscious of whether or not any sort of social media post is truly the necessary route to take.