Written by: Lauren Cheever
Every year on Valentine's Day, singles are plagued by reminders of their relationship status. Advertisements and social media posts are rampant with happy couples and messages of love, leading to a lot of people feeling left our and lonely. This Valentine's Day, you can see advertisements that cater to experiences and emotions of those who are spending the holiday at home and on the couch instead of with a lover.
During the airing of the Celebrity All-Star Game, I saw an advertisement that was run by Coors that is part of their campaign promoting the sale of Coors light. The commercial shows a young millennial woman taking a seat on her couch next to a large dog and cracking open a can of Coors Light while settling in to watch TV. The commercial references "cuffing season" and the depression that some singles experience during this time with their slogan that Coors is "the official beer for skipping cuffing season".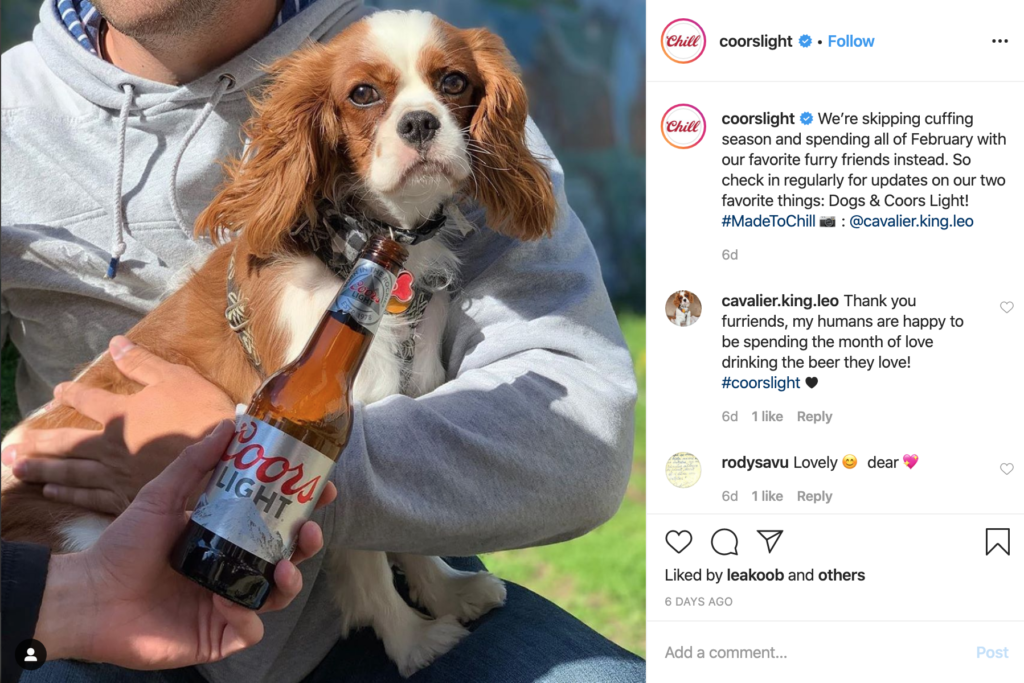 Coors has chosen to use the millennial attitude that sees Valentine's day as cheesy or corny to their advantage to flip the message promoting romantic love to one that promotes the loving companionship of a pet. This is the reality for a lot of millennials that feel the stresses of finding a relationship when seeing happy couples posted all over their feeds during the winter months (A.K.A. cuffing season).
Another aspect of this campaign is Coors' pledge that they will pay the fees for 1000 dog adoptions between February 4 and February 21st this year (2020). This is in an effort to promote dog adoption rates from shelters across the country. Coors has clearly targeted the younger millennial audience with this campaign, using their love of dogs to motivate and call them to action to buy their brand of beer while painting their brand in a positive light by supporting this cause.
Coors' Instagram page chose to include photos taken by real Coors customers that they took their dogs posing alongside the beer. All of their posts include the hashtag #madetochill to gain further reach when trying to get Millennials on Instagram to see their posts. This is also a way for Coors to find good content to post on their own instagram account.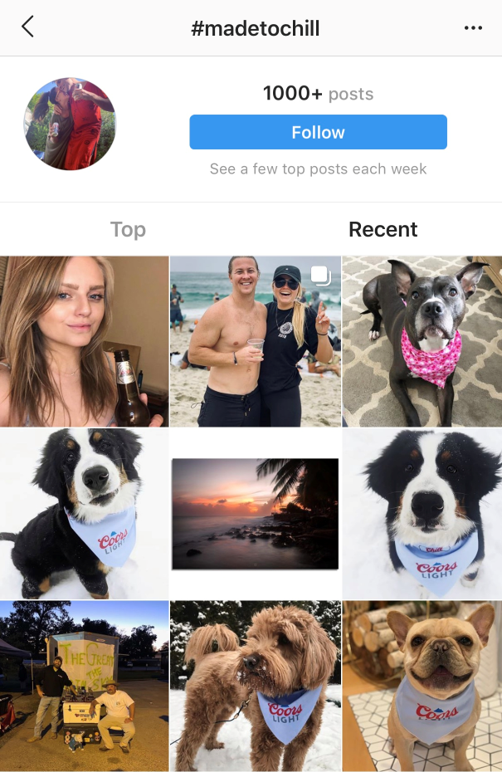 By taking advantage of the interactiveness between their brand and audience through Instagram, Coors has created a campaign that has both effective messaging and dissemination. Their use of the hashtag feature on Instagram allows people to see the positive effect their campaign is having because those who have adopted a dog following the campaign are posting where the rest of the world can see.
LinkedIn: linkedin.com/in/lauren-cheever-b287a8132
Twitter: https://twitter.com/LaurenCheever