By: Katherine Corah
Celebrity deaths as told on social media platforms have really transformed the way news gets conveyed to the public. Earlier this week, an unfortunate helicopter accident killed 9 passengers, 2 of them being Kobe Bryant and his daughter, Gianna. On Sunday, January 26, the entire country seemed to come together to mourn the loss of one of the greatest basketball players in the world. However, the way the news was presented has some questions. There have been many tweets, posts and comments saying, "Many journalists should lose their job after today." Twitter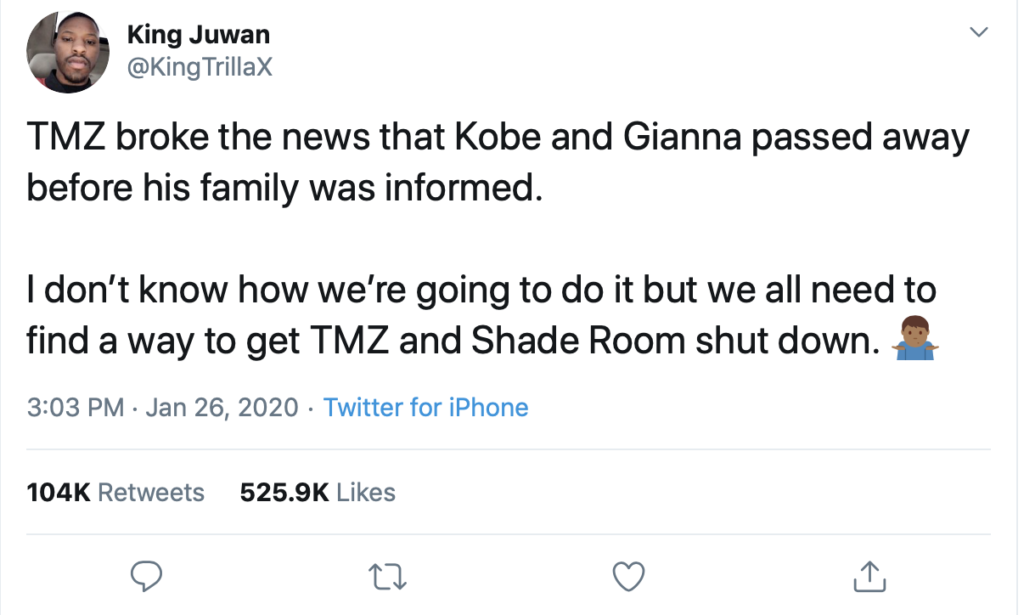 TMZ reported the loss of the two before their family was informed of their loss. This shows how the media has no remorse and just wanted to get the news out as soon as possible without even considering the feelings and emotions of their family. Along with Kobe and Gianna were two parents and their daughter. Their names were released because the family gave consent to people knowing their family members passed away. There were three more passengers and the pilot who's names have not been released due to the family wanting it to be private for now. Had the Bryant family wanted to keep it private, they never got the choice. The media got word of Kobe being on the helicopter and wanted to post it as soon as they got the news to get more visits to their website and take credit for getting the story out first. 
Many people are grieving over the loss of their favorite basketball player. All over Twitter, Facebook and Instagram are videos in tribute to Kobe Bryant. Twitter Video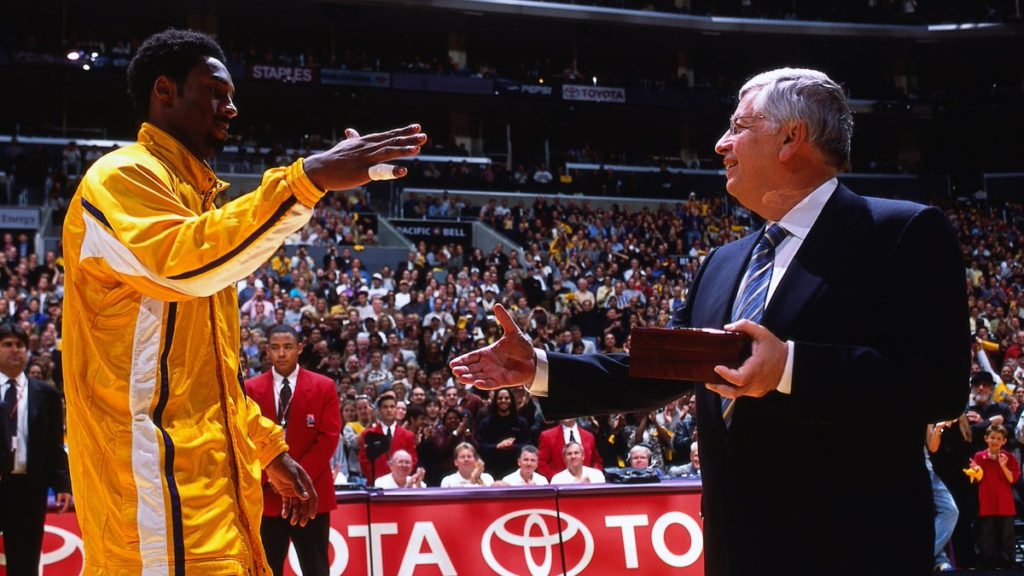 Another example of how the media jumps on news to post first is Cameron Boyce's death in July of 2019. When word got out of his death, Twitter feeds were filled with photos and videos of Boyce. The way I found out about his death was a tweet from James Charles early in the morning.  James Charles' Tweet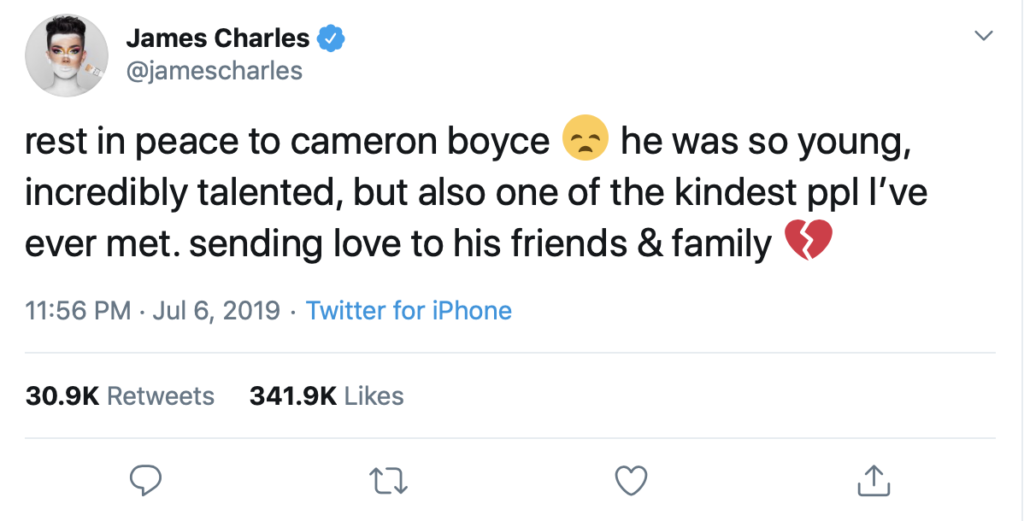 Fans all of a sudden started posting pictures of Boyce they had to Google or made videos they found on YouTube. It's shocking that if many fans never once said anything about Boyce on social media and suddenly when he dies, they use social platforms to immediately "show their support and love for their 'favorite' actor". Celebrities deserve to be remembered for who they are and yet fans promote then the second they become a trending hashtag.
Death, alone, is a time to be with family, to grieve and to reflect on the lives of those we have lost. It's a shame that celebrities have a lack of privacy and respect, especially when they have passed away. The problem with social media today is that families don't have a chance to grieve or remember their loved one because the news blows up and is everywhere to be seen. There should be a rule that news of deaths should be announced strictly by the family if they wish to do so. Anything can be posted once a rumor is started and that can cause chaos.
Twitter: @katiecorah2
LinkedIn: linkedin.com/in/katherine-corah
Instagram: @katiecorah
Blog: Medium @katiecorah