By: Siena Di Roma, Meghan Schroeder, Joie Ryan, Madison Seagraves, Austin Banks
On Thursday, March 14th, our class had the privilege to listen to guest speaker, Fatemeh Fakhraie, a Digital Content Strategist at Northwest Community Credit Union.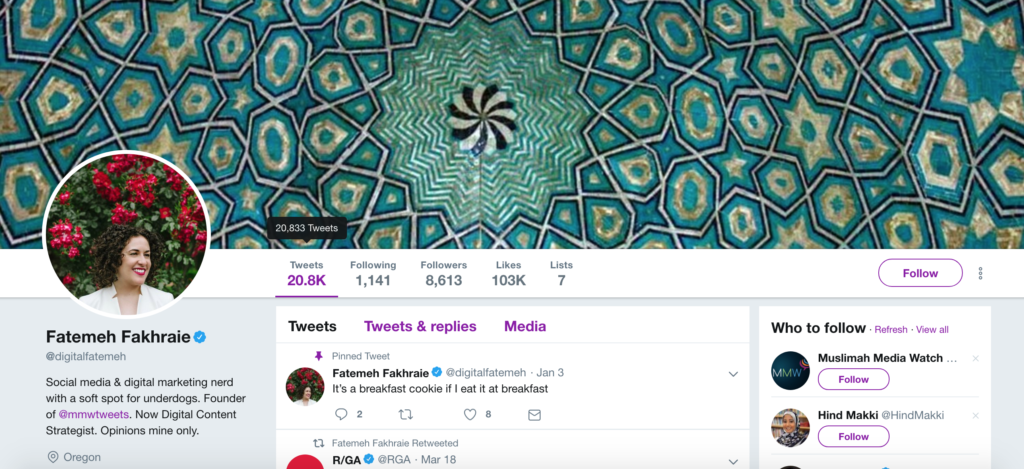 We were very excited to learn from her experiences with digital content strategists and apply them to our school work.
Fatemeh writes articles and lectures about issues related to social media, women of color in the workplace, and digital branding strategies. As a class, we continued to discuss Google Analytics in addition to Fatemeh's insight and stress on the importance of online reputation management.
Fatemeh's role in this was crafting her social media plan around providing helpful information for their customers or followers as well as being an active resource and respondent on their company review pages. Her humor and high energy helped to keep the class engaged and excited about her outlook on the NWCU social media outreach.
A key takeaway from Fatemeh's talk was to over communicate. Some may not see the point, yet there is no harm in over communicating. The more transparent the better, this will ensure everyone on your team, organization, and client are all on the same page. This decreases the number of mistakes and level of confusion. It also creates an understanding with your client, as well as creating an atmosphere that ensures honesty, positivity, and success.
It also was very reassuring to hear from Fatemeh how one does not necessarily need an extensive background in social strategy to get started. With only one term left, the idea of starting something new after college is very intimidating, but Fatemeh created a sense of calmness when talking about social strategy.
Fatemeh also stressed the importance of setting up a vocabulary filter in order to ensure a respectful social media space.
Many times on social media, people are disrespectful or offensive with the content that they post. One of her main goals is to make a positive difference through social media and eliminating negativity in digital spaces is essential to achieving this goal. We really appreciated Fatemeh's laid back approach to touch on Google Analytics and the ways she has been successful with the software.
Overall, Fatemeh's lecture was very interesting and engaging. We learned valuable information about social reputation, social strategy, and the importance of over communicating to individuals, publics, and clients. Fatemeh truly inspired us from her passionate presentation and helpful experiences and shortcuts towards success within the digital content strategist industry.
Thank you for an amazing and insightful presentation Fatemeh Fakhraie!