By: Matt McGonegal
This is a heads-up that this post talks about sexual assault. While I do not discuss the specifics of these high-profile cases, the last thing I want to do is cause someone distress so proceed accordingly.
Tonight at primetime, CBS News will be airing "The Gayle King Interview with R. Kelly." This comes after months of public scrutiny following the release of the six-part Lifetime documentary series "Surviving R. Kelly," as well as his dramatic outburst on "CBS This Morning" on Tuesday. In case you missed the segment, or do not plan on watching the full interview tonight, it looks like an unmitigated disaster in crisis management. But R. Kelly is far from the only celebrity whose poor response to allegations of sexual misconduct may have landed them in more trouble.
I'm a little surprised that Kevin Spacey didn't come up in class discussion when we covered crisis communications, so I'm taking the opportunity to discuss it now since he is back in court this week. If you weren't already aware, more than 30 people have come forward accusing Spacey of sexual misconduct ranging from harassment to attempted rape. And Spacey has reacted to these allegations with two of the most baffling crisis responses I've ever seen.
In October 2017, after actor Anthony Rapp accused Spacey of harassing him when he was 14 years old, Spacey released the following statement on Twitter: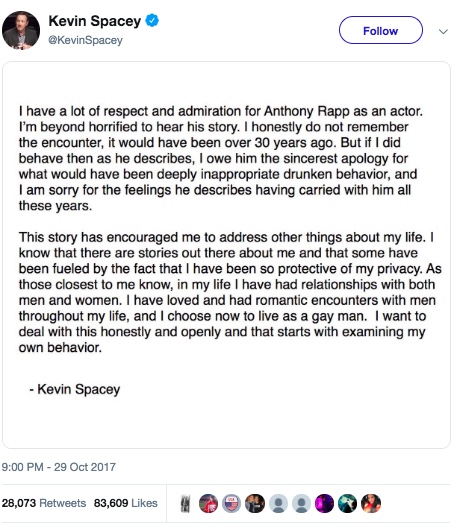 There are many things wrong with this apology, and I'd like to address a few of the major ones:
He offered a false apology by apologizing for Rapp's feelings, not his own actions,
He didn't deny the allegations outright,
He "honestly doesn't remember the encounter," but knows he was drunk for it,
And I don't feel like explaining everything that's wrong with his excuse of "I choose now to live as a gay man," maybe one of you can address this in the comment section.
Spacey received overwhelming criticism for this apology, and it was even condemned by the Gay & Lesbian Alliance Against Defamation (GLAAD). GLAAD CEO Sarah Kate Ellis responded to his apology by writing, "Coming out stories should not be used to deflect from allegations of sexual assault. This is not a coming out story about Kevin Spacey, but a story of survivorship by Anthony Rapp and all those who bravely speak out against unwanted sexual advances." [If you'd like to learn some tips about writing a sincere apology, check out this article]
But the awfulness of this apology pales in comparison to how awful the next video is. On Christmas Eve 2018, the same day he was indicted for felony sexual assault by Nantucket District Court, Spacey released this video from his personal YouTube account:
In this home-produced video, Spacey assumes Frank Underwood's southern drawl to deliver a three-minute monologue where it is unclear if he is professing his innocence or laying the groundwork for an insanity defense. This video blurs an uncomfortable line between fiction and reality as he alludes to his alleged sexual misconduct and subsequent fall from grace through double-entendre about his character being killed off on House of Cards.
When he released this video, I found it odd that a celebrity who typically stays out of the public light would respond to criminal, and potentially career-ending, allegations in such a cryptic way. But then it made sense to me: he is trying to appeal to the court of public opinion. Despite how creepy he comes across in this video response, at least this method let him control his message and use his abilities as an actor to his advantage. Which, if you think about the behaviors that abusers use to exert their power, seems very suspect.
In "Let Me Be Frank," he wants us to view him as Frank Underwood, the beloved Netflix character, and not Kevin Spacey, the disgraced actor whose career has since careened off into Billionaire Boy's Club. He used this character in an attempt to cast doubt over his guilt, and his talent to stir up goodwill before the case goes to trial. Now, it wasn't a great idea for an actor best known for playing creepy and dishonest characters to use a notoriously creepy and dishonest character to make his case for not being a dishonest creep, but I digress.
Perhaps the most important lesson J 480 has taught me is that, before starting a PR campaign, you should always ask yourself, "what is the worst that can happen?" In the case of "Let Me Be Frank," your answer is widespread confusion and condemnation by your peers. But as of now, the video has over 10 million views and a positive like-to-dislike ratio of nearly 4:1. So while much of the media's discussion around the post has been negative, it is clear from the comments that Spacey's message resonated with many people.
And I'll admit it: before these accusations came to light, Kevin Spacey was among my favorite actors. From L.A. Confidential to The Usual Suspects to Se7en, he gave us a series of incredible performances that are still culturally relevant today. And if you watch "Let Me Be Frank," his talents still shine through the absurdity of his homemade, iMovie-edited, Christmas-themed, sexual misconduct denial video. So now we face the questions that have dominated the entertainment industry in the #MeToo age. It's the same question plaguing fans of R. Kelly, or Michael Jackson, or even XXXTentacion: can we–and should we–separate the artists from the art they create?
So, what do you think? How should Spacey have responded to these allegations? Does "Let Me Be Frank" raise legitimate questions about our capacity to rush to judgment, or does the video reek of an abuser using abusive tactics? Has social media complicated our justice system?
[If you'd like to read a better example of crisis communications, I'd recommend checking out Aziz Ansari's response to sexual misconduct allegations]
LinkedIn: www.linkedin.com/in/matt-mcgonegal
Instagram: https://www.instagram.com/mattmcgonegal/