By: Elliana Meinert
Influencers. We've all heard of them, and many of us follow them on multiple social media accounts. Everyone has seen or responded to influencer marketing whether they know it or not. From celebrities to everyday people, influencers have taken over all social media platforms with their vast followings. They are people who have spent time building their own brand and reputation, cultivating a refined audience.
Influencer marketing is one of the main tactics companies use nowadays to help acquire consumers. The ultimate result of an influencer marketing campaign is the collaboration between the brands and the influencers themselves. By using their following to help brands gain recognition, influencers have become a component factor in bringing in revenue. People tend to trust what other people have to say, as opposed to mainstream advertising or corporations. Collaborating with influencers or vloggers can bring exactly the kind of traffic a business is after and once they've read this blog, they'll be off the mark. Finding the right person to promote one's services or products can be a long process, but within any industry, there are influential people who are recognized by tens, hundreds, thousands, or even millions of people.
The impact these people can have with their following is incredible. Influencers, like those who comprise the Sway influencer marketing network, have the power to determine whether or not individuals purchase a certain product or follow a specific brand. They are portrayed as figures we strive to be, and their goal is to make particular companies more attractive and appealing to consumers. People generally follow influencers because their content is informative, trustworthy, entertaining, and generally aspirational.
Kylie Jenner, for example, is a celebrity influencer who makes an estimated $1 million per sponsored post on her Instagram. This makes her the highest paid celebrity influencer on the social media platform, according to the 2018 Instagram Rich List. This is an extreme case, while many influencers are not celebrities. Many of them are individuals who have a strong following and whom people look up to, while not being considered a "celebrity." These people are also known as micro-influencers. Brands tend to lean toward micro-influencers when they are looking to establish longer and more meaningful partnerships. They turn to influencers with a lower reach who fit the style of their image, helping create a more genuine product. Most of this influencer marketing takes place on Instagram, since it's the most favored platform.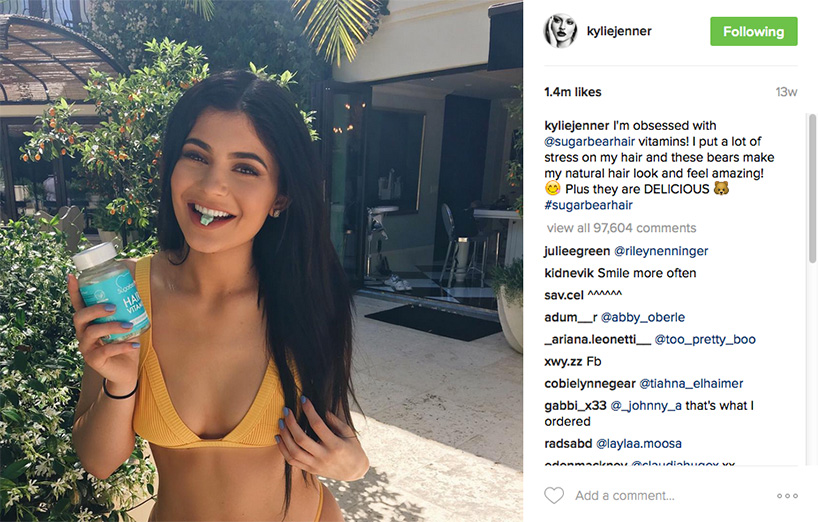 Authenticity is a major component in influencer marketing. Influencers need to be able to create content that people can identify with, so anything they create needs to come off as sincere. Even though having a large number of followers is beneficial, the number of followers an influencer has does not directly correlate with their true audience engagement. True influencers drive action not just awareness. They share their passions as well as acting as a voice of the people. Monitor what influencers are talking about and know that whatever they are saying is being heard.
Instagram: @ellimeinert
Twitter: @ellimeinert24
Linkedin: Elliana Meinert