By: Emily Gibson
Social media is evolving from being a platform for sharing thoughts and experiences with peers to being a strategic platform to connect with a large audience. Businesses are using social media platforms for promoting their brand and communicating with their consumers and clients. Platforms like Twitter and Facebook are the easiest and quickest way to respond to a crisis that has occurred involving your company.
But where do employees fit into all of this? Businesses are now using their employees to help promote their brand. Although this can be very rewarding, there is also a lot of risk. Companies might be hesitant to allow their employees to be vocal on social media about the company because they could be held accountable for the employee's actions.
A lot of popular brands have implemented policies to help prevent crises while also letting employees have a voice. A good example of a brand that has a great social media policy is Adidas. In their policy, they allow employees to establish an identity with the brand. Adidas, however, is not held accountable if employees post inappropriate material. They also cannot disclose any "sensitive company information" or break any laws pertaining to copyright or referencing.
Employees Create Conversations:
There is a lot of potential to reach clients and consumers through employees. Employees can start conversations online about the brand and also answer the public's questions or concerns. They can share their experience working for the company and share ideas with students, coworkers and the public. Building a community around your brand is important, and employees can help you do just that.
Employees Represent the Brand:
A paper published on the EmeraldInsight described employees as "powerful brand ambassadors." The way employees conduct themselves online should be professional and be a positive reflection of the brand. The paper outlines eight key points to create a work environment that allows employees to have a voice, while avoiding potential repercussions. These eight points include:
Research
Internet Access
Strong Commitment from Top Executives
Establish Social Media teams
Implement a Policy
Train and Educate Employees
Integration
Goal Setting and Measurement
Companies need to ENCOURAGE employees to be active on social media. The way ideas are shared is changing, and brands must continue to evolve. Implementing a policy and training employees helps eliminates risk and creates opportunities.
Here is an infographic from Buffer Blog that gives a few statistics of social media use by employees: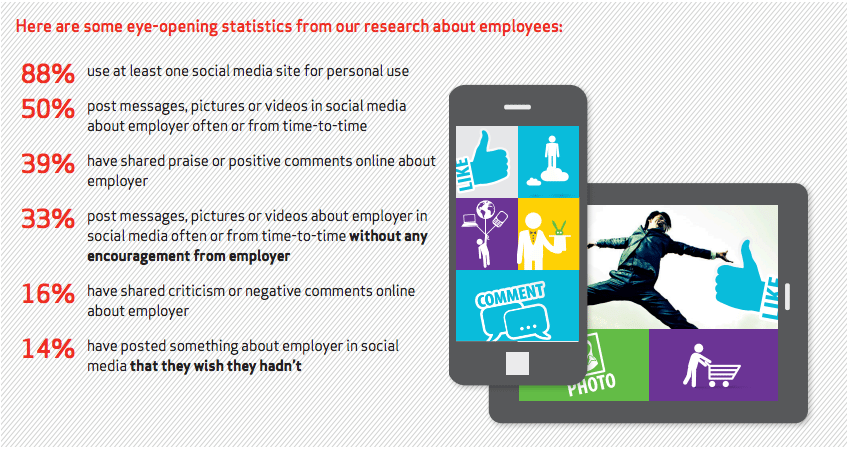 https://www.instagram.com/emgibson8/
https://www.linkedin.com/in/emily-gibson-b437a7157/