By: Amador Nazarov
Woj. Shams. To most, those two words do not hold much meaning, but to NBA fans they are two names that are important and vital parts of a large and growing community called "NBA Twitter." Adrian Wojnarowski and Shams Charania are arguably two of the most popular NBA Reporters and work for ESPN and The Athletic, respectively. Wojnarowski is famous around the league for sending out very huge pieces of NBA news and information on Twitter before you hear or see it anywhere else. Wojnarowski has 2.7 Million followers on Twitter and it seems that just about every NBA fan who has an account on the platform follows him. Even his drops of ground breaking NBA news on Twitter are known as "#WojBombs". The fact that a popular hashtag has evolved just from people's fascination of NBA Tweets shows how much of today's basketball culture has grown on Twitter this decade. Shams Charania, or just plain old Shams as most fans would call him, currently has 405.6k followers on Twitter and is widely known for his NBA News Tweets as well.
7 of 2018's Top 10 Tweeted about athletes were NBA players.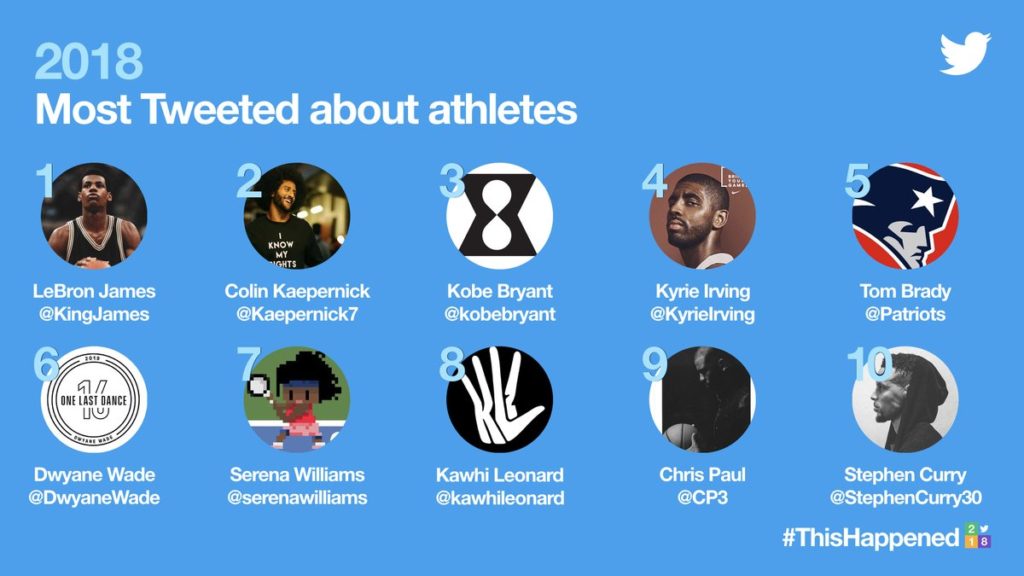 Even though only two on the list of ten were NFL players (Tom Brady and Colin Kaepernick), the NFL is the #1 most watched major sports league on TV and brings in the most revenue by far. However, the NBA is growing in popularity at a rapid pace and much of this has to do with the league's openness and willingness to work with the players and their social medias. Again, as of October 2018, NBA teams ranked in top 8/10 on Facebook, 8/10 on Instagram & 5/10 on Twitter for the most followed sports teams in the US. People love the drama of the NBA and there are not too many better ways to look at it than through social media. In 2017, MVPindex reported that the NBA's total social footprint for that year was worth nearly $5.1 Billion, with over $444 million in value generated for brands. This goes to show how much financial power the league now brings to the industry just from social media and the partnerships that come with it. Social media and the internet is an integral part to sports now, betting is done online, getting your tips and tricks on betting is done online from the help of sites like this one that shows you how to bet on NBA games. If you're looking to get competitive with your love of basketball, you could take a place on fantasy basketball rankings with your friends or with thousands across the country and potentially win cash prizes.
NBA Twitter Influencer Rob Perez said it best: "More people might watch the NFL on TV, but when it comes to consuming a sport through the Internet, I don't think anything's close to the NBA." Fans are attracted to inside looks of famous athletes' lives, as they are true celebrities in today's world. It can almost be seen as a reality TV show. There have been instances where a player decides to sign with a different team in the offseason or there is a blockbuster trade, and NBA Twitter goes crazy in response to these kind of events. For example, when LeBron James signed to the Los Angeles Lakers last summer, Adrian Wojnarowski's Tweet announcing the deal drove in an enormous 127K RT's and 196K Favorites. One can only imagine the potential of how much conversation Twitter and Instagram would create if there were to be an event of a greater magnitude, such as Stephen Curry signing to a different team or hitting the game winning shot to win the NBA Finals. Communities of millions basketball fans all come together on "NBA Twitter" to talk about the league, make player impersonation videos, create memes, and even produce Game of Thrones Spinoff Shows. It is quite incredible to see how much of today's basketball culture and lifestyle has evolved on social media and created such a different way to create camaraderie and improve an overall league image.
Twitter: @amadornazarov
Instagram: @slamador_