By Jessica Baker
Memes. They're everywhere on social media – some people communicate almost solely through them (I'm not pointing fingers but the amount of memes I get from my spouse on a daily basis is… excessive).
In this paper examining memes through semiotics, the author examines the impact of "symbol" on our understanding of "meaning." They then explore several well-known memes and their meanings. Even before I saw the posting date, I knew the paper was from a few years ago, as the memes the author investigates are certainly ones that were in widespread use, but in recent years have been largely forgotten.
I'm interested in how memes form and persevere, as they are a truly unique part of our internet and social media interactions. The properties of Networked Publics are persistence, replicability, searchability, scalability, and (de)locatability – to examine the prevalence and persistence of memes in the social sphere, I focused on these properties as a lens through which to view memes.
Memes, for those that may not know, are usually viral pictures that have text laid over the photo. Typically the photo is the first thing to be viral, and then users change the text. There are also viral photos without text, as well as catchphrases such as "same," "big mood" or "be gay, do crime," but for this I wanted to focus on text and photo memes.
The "Is this a Pigeon" meme that I used at the beginning of this blog was one that popped up in my social spheres last year. The origins, according to KnowYourMeme.com, is from a 1990s anime in which a character asks if a butterfly is a pigeon. At first it was just a funny picture with various subtitles or other photos superimposed over it, but last year (when I first saw it) there were a lot more instances of the original image with labels on the butterfly, the character, and added dialogue.
This illustrates the property of persistence – the image that is the basis for this meme is over twenty years old. The first post that KnowYourMeme.com lists is in 2011, and then there was a resurgence last year in 2018. This meme stayed in the collective consciousness throughout those years and is a great example of how something on the internet never goes away.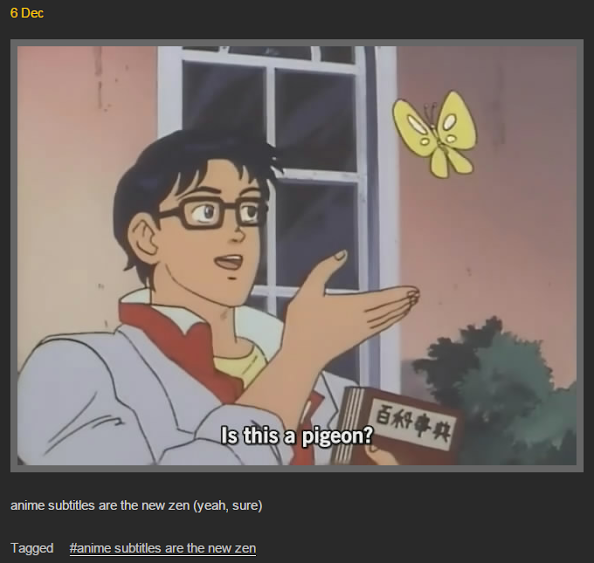 The initial post was found on Tumblr, but the meme has since spread to Facebook, Instagram, Twitter, Imgur, and many other social media platforms or user-generated content sites. The initial context was the Tumblr user suggesting that the subtitle was a mistranslation, but it has since been replicated on other platforms as a meme to convey confusion or disbelief.
Here we see replicability come into play; the meme had an original context on Tumblr (or even further back, as part of the anime in the 1990s), and then was copied to various platforms and had the meaning change entirely.
To look at the searchability, all you have to do is to type "is this a" into any search engine, and you will find many instances of this meme, including a meme generator to make your own, and the KnowYourMeme.com entry. Someone searching for it wouldn't even have to know that it was originally "is this a pigeon?" to be able to find it.
Finally, examining the scalability and delocatability of the meme – you can see how broadly this meme spread in such a short amount of time. A perfect example of how deeply it had entered into the common vernacular is that Netflix tweeted out this meme in May 2018 – and was widely retweeted. This meme also could be used in a specific location-based context, like this meme I made above, or they can be broadly understood and can reach many different people across the internet.
I am always fascinated by how memes and meme culture evolve and change – for a negative example, just look at how the alt-right co-opted Pepe the frog. While we may never move completely away from the written word as communication, I am curious to see how we continue to evolve new ways of communicating as a digital society.
Send me memes! Find me on Twitter at @coast2coastjrb or on Instagram at @jessicaruthbaker.