authors: Erich Aguillon, Grieta King, Samantha Nadel, Case Powell and Jeanne Schneider
On Wednesday, March 14 we welcomed Grant Gurewitz (UO '13, @GrantGurewitz) and Ahva Pakzadan (UO '16, @theahva), Marketing Manager and Social Media Coordinator at Zillow Group to speak about Zillow's social media strategy. Grant highlighted many of the concepts we have been discussing in class this term. One of the major reasons for Zillow's success is the company's ability to empower consumers in the home buying process. This is reflected in their motto, "Power to the People." As we have been learning all term, gaining a consumer's trust in your brand is extremely important to the brand's success, as trust is the foundation of engagement. Once consumers are engaging, their contributions "add a layer of authenticity" to the brand, as these are real people coming forward with their real, experienced successes using Zillow. Ahva spoke on how Zillow handles emailing customers. @celine74605957 pointed out when customers think that "email volume is too high, they (Zillow) genuinely take it into account and decrease it." This is a great example of how Zillow listens and engages with their customers. They are able to build trust and strong, personal connections which leads to improved sales.
During Grant's and Ahva's presentation, we took the opportunity to pose questions to the class. We posted a poll asking which students have used Zillow to find a place to live. 83% of the 12 respondents had used Zillow before and @Mei_Ling25 mentioned she only uses it to "window shop". Since our class is relatively young, our expectation was while many have definitely looked at Zillow, it was not with the intent to buy. It is an interesting insight as it shows Zillow's wide reach and its consumers are not solely real estate agents or homebuyers.
Zillow's reach and social media success can be partly attributed to its recent move to bring social media programming in-house as opposed to the norm of brands working with an external agency can be attributed. We asked the opinion of the class on the effectiveness of this move. @molliemarkey weighed in noting that internal employees have stronger ties to the company and a better idea of what the company is looking to accomplish. Grant weighed in as well agreeing with @molliemarkey, "Employee connection to brand is stronger and more authentic than outside folks, IMO. Agency can be helpful for analytics, campaign/budget management, and targeting." It makes sense employees are invested in their place of work so who better to understand the company's objectives and what it would take to accomplish these objectives.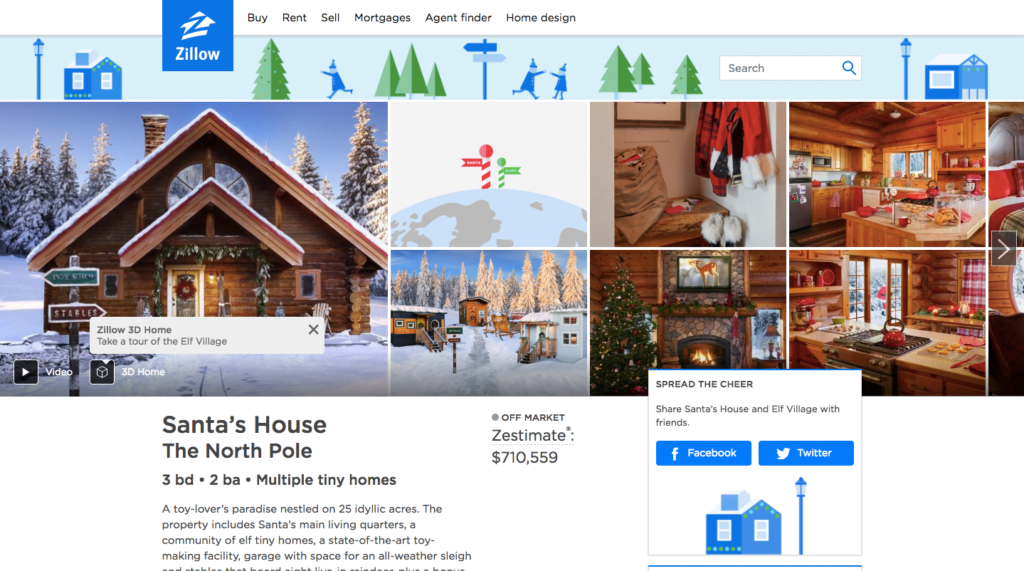 Zillow's social media strategy is a smart social strategy overall. As we learned in our last class, brands create personas to help them gain insight into consumer needs and preferences. Grant revealed Zillow created several consumer personas which shapes their strategies. Moreover, the marketing funnel that Grant showed clearly displays a planned, organized approach to their social media marketing. The diagram displays the brand's wide reach, as they boast a combination of organic as well as paid partnerships. Finally, Zillow links consumer stories to all social media platforms, which has the effect of humanizing the brand as well as spreading a clear, consistent message. It is no wonder that Zillow is considered to be a "social media superstar."