By: Taryn Dunn
Trends — may they be in the world of social media or fashion — have a major impact, like Anna Wintour has the power to create or destroy someone's career.
Before we discuss the importance of how a trend can affect a business or a person's interaction with its audience on social media, what is a trend? A trend is an idea that takes a particular direction. For example, everyone knows fashion and its trends. Everyone wants to participate in them to be "in," but they probably shouldn't. Some fashion trends include cat-eye sunglasses, denim on denim, and mom jeans. What's in fashion changes with the weather so if you're going to buy an item of high-fashion clothing that will enjoy a fleeting moment's popularity, you'll not want to pay through the nose for it. Mercifully, you can find many discounts and coupons available to use for some of the best-loved stores and brands over on sites like Raise – https://www.raise.com/coupons/macys. This way, you will be able to acquire the latest trends and make a saving at the same time.
Gif Credit: The Smoke Detector
But why are trends so important to businesses? (Just think of the paramount September issue of Vogue!) The answer is simple: to help market yourself or your company. More specifically, engaging with trends can help create a conversation with the company's target audience. Trends will allow a business to connect on a human level and gain a follower's trust. Not only will the business gain more insight into their audience, but engaging with trends will also garner more attention. Followers will be able to understand the company's personality.
Not so fast there — just because you may understand the importance of a trend does not mean you have the tools to execute it! Trends can be fresh and exciting, but they are not for every brand. Yes, social media is used to engage, but the life expectancy of a tweet is only 6 minutes long. You have to create original content that your audience would want to engage with. For a company to use a trend successfully, they have to relate it back to their audience. If your audience is not talking about it, you probably shouldn't be either.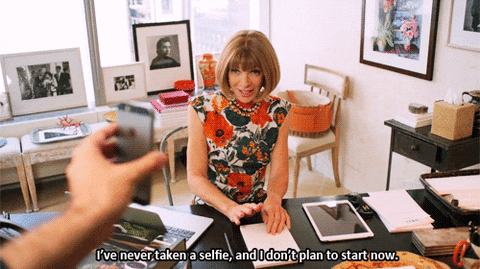 Gif Credit: Packito001 Giphy
Attention, attention! Almost done. The whole point of connecting the fashion world to the trending world is to help any business or person realize that nothing is too far out of reach. With a clear goal and purpose of what a company needs and wants on social media tied into what a follower wants and who they are, a successful trend can happen. Audience and content are the holy grail. I hate to recycle an old cliché, but it's true — keep your eyes on the prize. If a company remembers who they are and who and what their audiences want, then no trend or hashtag will ever be too death-defining. Even President Trump would benefit from taking some notes on this post.
Just like Fashion, trends will come and go like the Kardashians' selfies, but followers and business will stay the same. With every fashion season comes something different, but designers like Tom Ford and Gucci stay relevant because they understand not only their company, but their consumers as well.
---
Twitter: @thetaryndunn
Instagram: @thetaryndunn