By: Ani Clifford, Taylin Minnaert, Rachel Hanks
The class was very engaged in today's Twitter feed, with over 80 tweets! Today we heard from Kateri Kosta and Jonathan Michael from Palo Alto Software. They spoke about the different aspects of content strategy. Jonathan Michael started off the presentation by asking the class, "What is the point of social media?"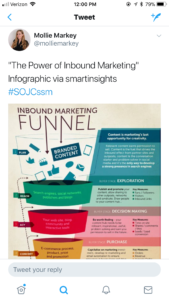 Kosta and Michael gave us a brief description of content strategy. They described the different tactics of content strategy as lego parts that fit together to build something whole. They discussed the "golden thread" that connects everything together and creates a plan that gets people to take a certain action. Content strategy is all about testing your hypothesis.
The Inbound Marketing Funnel is a strategic tool that is used to show how brands attract potential customers to their sites, and how they turn them into loyal customers.
Some additional key topics that Kosta and Michael covered this class include:
The importance of creating detailed target audience personas
Stages of the buyer's journey and how to insert your brand into every stage
Search engine optimization
Edited content makes your message more powerful
The value of editorial calendars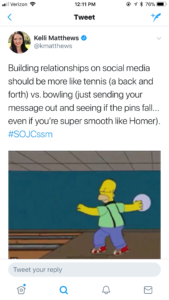 This class reiterated a lot of what Kelli has already taught us, but it's always useful to know that the themes we learn in class are relevant in the professional world.
Ani Clifford: @ani_clifford
Taylin Minnaert: @minnaert_taylin
Rachel Hanks: @rachelhanks18