By Marisa L Biggins

It's always refreshing when you've taken a course that carries over to relevant topics in a new one.
As a former student of Doug Wilson's Marketing Strategy class and Katie Mercurio Brand Strategy, brand persona is something that I know all too well (plug: Highly recommend you take their classes if you can). Doug is absolutely correct when it comes to using real-world data to create personas, which several students reiterated on the twitter feed.
In the aforementioned marketing courses, brand personas were essential components of our final projects. However, I will admit the brand audit project for Ben & Jerry's in Brand Strategy required more in-depth research. The project was broken up in three stages:
1) Assess the brand's current position in the marketplace
2) Identify potential opportunities for brand expansion or threats to brand image
3) Develop a strategic plan to capitalize on identified opportunities and mitigate potential threats.
During stage three of the project, we created a new brand persona for Ben & Jerry's in order to create and reach a new generation of brand loyalists. By collecting real data, much like the Target Internet graphic Doug shared with us, we were able to recommend new personas for Ben & Jerry's rebrand.
From all the data collected, our analysis findings helped us create and introduce two personas, the Wilsons (right) and Harrisons (left). Here is the condensed version of each persona: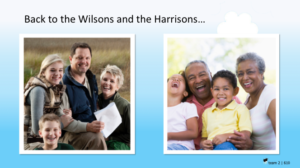 Wilsons are college educated, in their late 30s and live in Chicago. They stay active with various family activities and enjoy sharing ice cream.
Harrisons are grandparents of 8 grandchildren and enjoy spending time with their two youngest grandkids. Since they live in the south,  on hot summer days you can find them creating memories and sharing ice cream with the little ones.
So whether you're working on a brand audit or creating a brand for a company, it's important to collect your data (research, analyze and survey) when building your personas.
Twitter: @Mei_Ling25