By: Justin Hanes // justinchanes.com
Tell it first. Tell it fast. Tell them what you're going to do about it. Alaska Airlines did almost just that.
On Nov. 30, 2017, Randi Zuckerberg, sister of Facebook Founder Mark Zuckerberg and Silicon Valley executive, announced that a male passenger aboard an Alaska Airlines flight sexually harassed her. To make matters even worse, the flight attendants allegedly continued to dismiss the harassment.
She released a statement on Facebook (fitting, right?) that she sent to CEO Brad Tilden and  VP of People Andy Schneider stating "I am furious at that passenger…I am furious at myself for not causing more of a scene in the moment…but I am even more furious with Alaska Airlines for knowingly and willingly providing this man with a platform to harass women." She ended her statement with the intention to share the message on social media, as well as further action.
Alaska Airlines' communication department was faced with a sudden crisis. What did they do?
Zuckerberg's statement could have broken Alaska's brand in a society that is already prone to sexual misconduct. I imagine Bobbie Egan, media relations director for Alaska, remained calm and professional during this incident that could have resulted in a loss of passenger loyalty and brand degradation. Additionally, I'd argue that she worked with other Alaska PR professionals to craft the response that addressed what they're doing to make sure this doesn't happen in the future. Specifically, they called Zuckerberg personally to discuss the incident.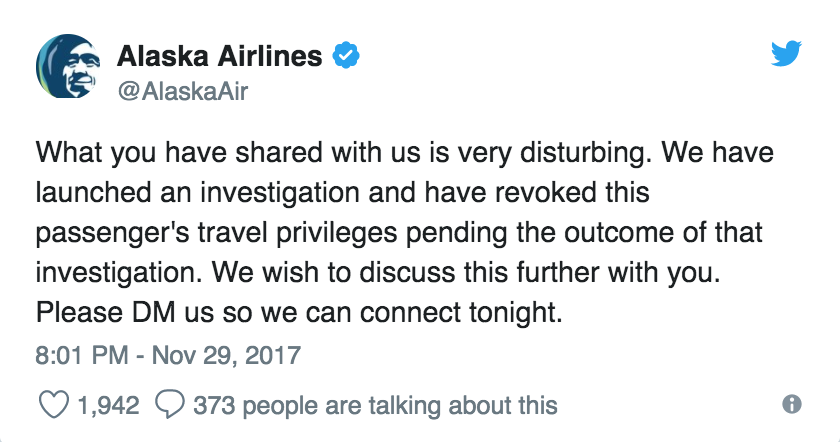 They used multiple social platforms to communicate their message and crisis response. They shared what they were doing to protect this from happening in the future. Not only does this communicate with Zuckerberg, but it communicates with other Twitter, Facebook and blog users, too. Their tweet has more than 200 retweets and nearly 2,000 likes.
While Alaska didn't tell the story first, they responded within an hour with a corrective-action and condolence response. Not only did this communicate the stance of Alaska, but it showed their publics that they were dedicated to the problem. They were transparent, ethical and aware of the issues. The critical thinking by the PR team and Andy Schnieder, vice-president of people, and CEO Brad Tilden allowed Alaska to stay afloat while the investigation continued.
Curious about my personal thoughts regarding the situation? Keep reading.
I'm absolutely disgusted by the actions of said passenger, and I applaud Randi Zuckerberg for using her voice to call them out. However, this is NOT the first time sexual misconduct has happened on Alaska or any airline for that matter. Sadly, I'd argue that some form of sexual harassment happens on a regular basis. It's unfortunate that unless someone is a public figure with a huge social media following like Zuckerberg, their voice will be most likely not be heard.
 Alaska's response was exactly what I expected. In fact, it was better than what most airlines would've been. It was fast, critical and encouraging to most loyal Alaska passengers. It's encouraging to see great PR from a great company who cares deeply about their people.
—
Instagram: @justinchanes 
Twitter: @justinchanes
Web: justinchanes.com
Header photo: Property of Justin Hanes