The Twitter feed for #SOJCssm wasn't as active on Wednesday, February 21 as it has been on other days. Maybe it has to do with the almost snow day? Or was it the step by step instructions for boosting a Facebook post that had everyone focusing on the lecture rather than the feed?

The topic of conversation on Wednesday was about Facebook sponsored posts and how to go about strategizing for ads. There are a lot of bits and pieces that go into crafting a plan for Facebook ads and it resulted in low Twitter engagement. There were even several tweets about the lack of energy in the room.
Kelli's aquatic marine-themed slides dove into the nitty gritty of sponsored Facebook ads and that was reflected in many of the Twitter posts.
There were 53 posts and of those 53, three had images, five had links and 20 had gifs. There were five posts that posed questions. Two of those posts had two responses each, one had a voting option and received three votes and the other two didn't receive any response. There were four retweets of various posts that included just text, a gif or image. The highest number of likes was 18 and that post included a gif. The lowest number of likes was zero which included all types of tweets.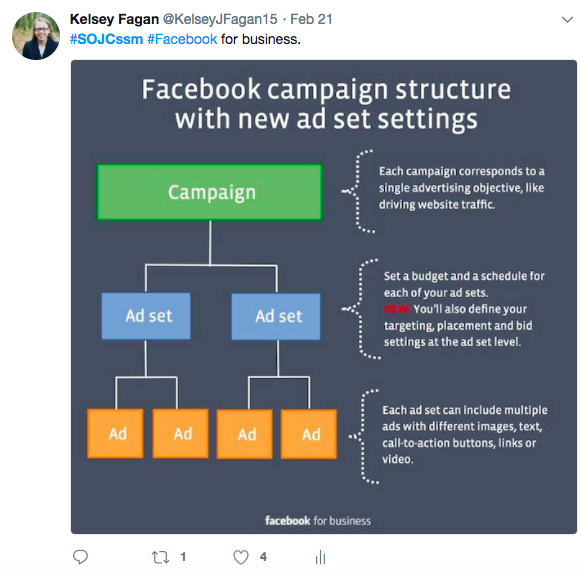 Majority of the tweets included the word Facebook because of the class topic that day. A lot of student tweets also include @UOSOJC because the class was working on a sponsored ad for the SOJC Facebook page.
You always hear people talking about the #SOJCssm outside of class and how engaged the live tweeting seems, but no one outside of the class really engages. Wednesday certainly was not the time to engage with us because of the combination of tired people wanting a snow day and learning a lot of things about Facebook ads that were entirely new to the class. As always there were funny tweets and informative tweets but the few tweets and everyone's small amount of knowledge about Facebook ads didn't make Wednesday a great day for outside engagement into our world of #SOJCssm.
Kyra Barker (@kabarker_), Haley Brown (@haleybrownUO) and Kelsey Fagan (@KelseyJFagan15