By: Samantha Nadel
Feature image: Courtesy of Gage Skidmore
In my opinion, there is no other individual who more clearly exemplifies the topics covered during our class discussion of ethics in social media than our president, Donald Trump. At a time where sexual misconduct is one of the most prevalent social issues facing our culture today, it is no wonder that conversation regarding this topic is omnipresent on our social media channels. Through my analysis of President Trump's activity on Twitter, I have come to the determination that he embodies a contradictory persona– not only regarding his opinions on important social issues such as sexual misconduct, but also concerning the ethicality of his social media usage itself.
In class, we learned that social media is meant to be just that—social. Generally speaking, we have expectations that an individual will be transparent with who they are and what they believe on social media. President Trump seems to have no hesitation frequently expressing himself via Twitter, regardless of whether his tweets will be considered controversial or not. Trump argues, "Twitter and other forms of social media are the key way that [I'm] unable to get [my] unfiltered messages directly to [my] supporters." In this sense, Trump can be considered to be behaving ethically on social media, as he is displaying his authentic self/he is not pretending to be anybody else (in contrast to President Obama, whose tweets were written for him).
However, many of Trump's tweets themselves can be considered unethical. In the wake of the allegations of sexual assault leveled against ex-aide Robert Porter, Trump not only put out this tweet, but later contradicted himself, leaving the American public wondering where he really stands on this hot-button issue. Here is Trump's original tweet regarding the accusations against Porter: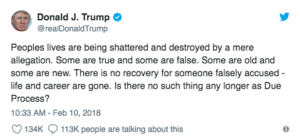 This tweet is unethical because it is emblematic of "poor taste," as we discussed in class. It shows a lack of empathy for the women who were sexually assaulted by Porter, a practice shunned in this day in age, especially with the recent legal sanctions imposed on high-profile men like Harvey Weinstein, Matt Lauer, Larry Nassar, etc. Trump's tweet is in direct contrast to the #MeToo social media campaign, which began as a response to the Harvey Weinstein allegations to demonstrate the pervasiveness of sexual assault in the workplace . Sexual assault against women is immoral behavior; therefore, Trump taking the side of the man in this case constitutes an unethical response.
Trump's tweet not only revived questions about his character that could further erode his numbers amongst women," but also, "provoked debate about the morality of the administration itself, and the quality of the people who Trump chose to employ." Moreover, the fact that Trump later called Porter "sick" raises further questions regarding his own moral character. Where does Trump really stand on this issue?
Overall, the public nature of social media is both a blessing and a curse—it allows us to engage with public figures that we otherwise would not be able to, such as our president, but knowing this information has the potential to breach the trust that many citizens may have once had in our president/administration. As we learned in class, trust is the foundation of engagement. As exemplified through his Twitter account, if President Trump does not support women in cases of sexual assault, or worse, if he expresses conflicting viewpoints on the issue, how can American citizens possibly trust him?
Twitter: @SamanthaNadel