By: Lauren Muniz
As journalism and communication students (storytellers for short), it is our natural instinct to gravitate towards words and run at the sight of large sets of numbers. With that said, you can only imagine the wave of uneasiness in the room as we discussed the social media audits we will be conducting for our clients and the accompanying data we will have to analyze during class this past week. Our discussions about how to analyze data and obtain insights from our search got me thinking: what if we are going about this completely wrong? As storytellers, it is our duty to be able to master all forms of telling a story. So, let's approach data analysis as mastering another form of storytelling. To help us properly conquer this new challenge, here are some tips to get the most out of your data analysis experience and unravel your client's social media story.
The Key to Uncovering Data Trends: Visuals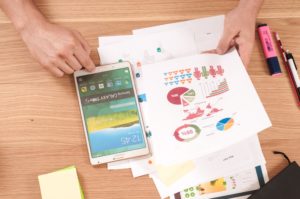 Looking at a spreadsheet full of numbers can be daunting. Adding the need to derive trends from these numbers can make this task seem even more intimidating. A way to help streamline the process of extracting trends from your data can be to find the right visualization. For example, if you are searching for trends in your client's Twitter engagement during a given timeframe, transfer your data into a line graph to see where any increases or decreases in engagement are occurring. Exporting your data into a visual form can help give you an overall picture (literally) of what is going on with your client and uncover important trends that can lead to valuable insights.
Don't Search; Let the Information Come to You
When you're so close to your client and are fully aware of its history and needs, it is easy to go searching for what you want to see in your data. This can potentially lead to misinterpreting the numbers; spending too much time looking for something that may not be there; or overlooking an actual trend which could lead to providing a credible insight to your client. The key to making sure you are being productive with your data analysis is to not formulate your search around preconceived notions and let the data speak for itself. Take the case of marketing and finance- two areas where big figures are always the topic of discussion. But gathering your information via big data doesn't have to be scary. So long as you can bring the process discipline and measurement rigor to data you have gathered, you will more often than not, come away with the desired outcome. If you're interested in learning about these very processes, click here to know more about how data analysis can make the solutions of complex problems look simple. Granted this data doesn't yet have a story to tell, it's up to you to deeply analyze this data so its own purpose can come to fruition. Looking at the information provided by somewhere like Timescale, you can see why SQL, or Structured Query Language, is a critical tool for data professionals to utilize to make more sense of the pieces of unknown data that are making themselves known.
Remember Your Goal
Chances are your deep dive into the realm of numbers will take a bit of time. At times it may be frustrating or seem like you are not getting anywhere with your search. But just remember, that all your efforts are helping you to better understand your client's story. The greater your grasp on your client's overall narrative, the easier it will be to develop actionable recommendations that will enhance the organization's performance moving forward.
Photo Credits: Unsplash
Twitter: @xolaurenmuniz
LinkedIn: Lauren Muniz