Tess Meyer
For years we've been cautioned of being friends with our bosses, professors, and even our parents on social media. Why? Because what we have been posting (let's be honest – what we have been tagged in) is not appropriate. I mean, no one needs to see photos of you doing a keg stand, grinding at a club, or cozying up with a mystery person in a corner. Really, no one needs to see that on their timeline.
In the past we just ignored follow requests from those superiors. But, we don't live in that world any more – if a superior wants to see your private page, believe me, they will find a way. It is time to accept the fact that, in this digital age, the line between personal and private has been blurred. I'm not saying it is right, I'm just calling it how I see it. So let's discuss some practical tips on how you can mesh your professional self and playful self on social media.
Approve Your Tags – First things first, make sure tagged photos of you cannot show up on your timeline without your permission. Your friend might think it is funny…your boss might not.
Follow the Golden Rule – Don't Post Anything You Wouldn't Want Your Mother-in-Law To See. That is what I call the Golden Rule of Social Media. If you don't want Martha to see it, don't post it, because Martha knows more about Facebook than she let's on (I have a working theory that needing help with her computer is really just an excuse to talk every week. No one forgets their password that many times).
Have a Disclaimer – Companies are always worried that their employees' actions or words will reflect poorly on the brand. Add a disclaimer to your Twitter bio – something like, "Opinions are my own and do not reflect the views of my employer." If you need more inspiration, read here.
Display Your Interests – Social media is a great way for your boss to get to know you on a more personal level. Don't be so fearful of tweeting about or posting pictures of your interests or hobbies. These are the things that make you unique and bring diversity into your workplace. That being said, take caution with your religious or political preferences.
Being friends with your boss online doesn't have to be scary. And if you start by following these simple guidelines, you may find it to be both fun and professionally beneficial. Friend request: Accepted.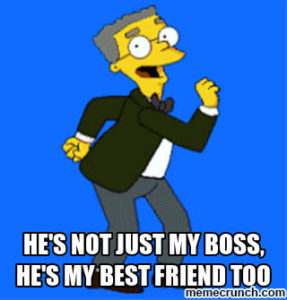 Want some more tips on how to have a professional, yet personal, relationship with your boss? Read this Career Contessa article on Four Boundaries You Should Never Cross With Your Boss.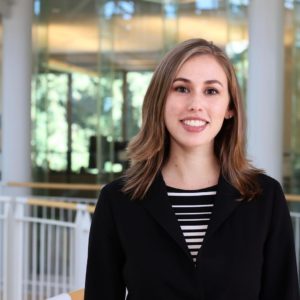 Tess Meyer is a 2018 MBA in the Innovation and Entrepreneurship track. With a background in Psychology and experience managing extensive teams, she is passionate about driving human potential. Tess' aim is to enter Human Resources where she can build programs that encourage last career passion for corporate employees. When she is not writing or studying, Tess can be found hiking, reading, or trying a new restaurant. Learn more on frombrowneyes.
Photo sources: https://www.google.com/search?q=my+boss+is+my+best+friend+meme&rlz=1C5CHFA_enUS713US713&source=lnms&tbm=isch&sa=X&ved=0ahUKEwjIxOS6werYAhVT3WMKHXLcDl4Q_AUICigB&biw=1439&bih=732#imgrc=NZqWzHpkDYnVuM: | https://www.google.com/search?rlz=1C5CHFA_enUS713US713&biw=1439&bih=776&tbm=isch&sa=1&ei=xEllWu6XHYq8jwPp27jYBw&q=bonding+with+boss&oq=bonding+with+boss&gs_l=psy-ab.3…195226.195226.0.195592.1.1.0.0.0.0.86.86.1.1.0….0…1c.1.64.psy-ab..0.0.0….0.wDgWVzvr5UM#imgrc=i5YpI06EAQDsMM: