"Holy crap, you are creepy as shit. Sneaking up on me
wearing that collar with that freaky ass smile."
– Negan
My name is Anyssa Guzman and I'll be honest. I'm a super fan of the television show, "The Walking Dead". I've seen every season, read the comics, quoted it like no other and this past weekend I attended Walker Stalker Con. Now, Walker Stalker Con is a convention that was created by James Frazier as a sort of spin-off of his popular podcast, The Walker Stalkers Podcast. This convention, however, is not sponsored by AMC but instead is an event that is funded BY fans FOR fans. So, like Lego did with their Adult Fans of Lego AMC created a conversation with Walker Stalker Con with the help of actors and actresses from the shows to create an unforgettable experience.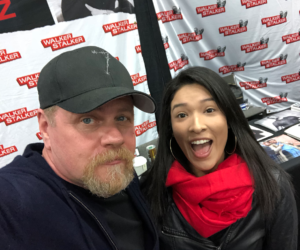 I watched excited children eagerly wait in lines to take pictures with professional cosplayer's and grown adults become emotionally overwhelmed by meeting their favorite celebrities. Personally, I felt the exact same way. At the convention I met, Michael Cudlitz and Jeffrey Dean Morgan, both actors from the popular show. Cudlitz played a character named Abraham before being killed off brutally and Morgan played his killer, Negan. Cudlitz was exciting to meet but the main reason I attended the convention was for Jeffrey Dean Morgan.
When I was ten years old I watched the show "Supernatural" and in the first season Jeffrey Dean Morgan played a character named John Winchester and it was the first time I'd ever seen him. So, as I grew up I watched him in "P.S. I Love You", "Watchmen" and eventually "The Walking Dead". So, after watching Jeffrey Dean Morgan since the age of 10 I finally met him at 22. I won't lie and say I wasn't an overemotional fan because for the next three days I couldn't stop talking about it and nothing could wipe the smile off my face.
So, why is it that there are actors appearing when there are no contractual obligations to do so? AMC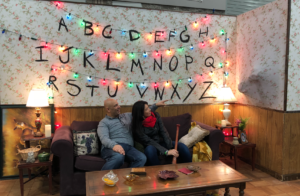 chose to do so because rather then forming a divide between the fans and the show they instead chose to nurture the relationship by allowing vendors to sell licensed merchandise like my bat, Lucille. They also chose to nurture it by allowing actors and actresses to meet fans without punishing them for technically involving themselves in non-affiliated AMC events. So, like Lego did with AFoL the AMC chose to create and nurture a bridge between the fans and the show.
Contact:
Twitter: @NyssaGuzman
Instagram: @nyssaguzman
LinkedIn: https://www.linkedin.com/in/anyssag18/
Links: