By Olivia Determan (@oliviadeterman), Erika Goto (@thisiserikagoto), and Erin Petit (@erinopetit)
Mondays in J480 can be pretty low energy after not having class the very first two Mondays of winter term. The Monday of week 8 was different, however, when the day's topic was revealed: content creation.
After learning about analytics, audits, dos and don'ts, crises, and research, we finally got to dive deep into the planning and creating side of social media management as a class. Follow our summary of the class to get a recap of the four core strategies to content planning and creating.
Substance: What does your audience need and why? Why do they need that content?
The first step to planning your social media content is understanding your audience. What does your audience need from you?
Kelli went over an example of a previous client whose key audience was business owners. As a strategic team, Kelli and the client decided that its key audience needed their content to reflect three pillars: empathy, expertise and community. As business owners, they needed the client to understand them as individuals, they needed to know the client knew their field, and they needed to feel like their industry was a community.
These factors should reflect the brand and its audience's needs, and as a social media manager, you should spend quality time deciding the factors.
Structure: How is content organized, prioritized and accessed?
As Kelli said in class, "If you don't have a process, you don't get shit done."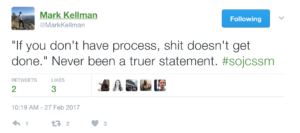 Developing a process to manage, create, organize, and post content is crucial to a social media account's success. Everything on a brand's social accounts should be planned, down to the time and way it reaches its audience to which employee does what in the process.
Using a tool such as an editorial calendar can be useful in planning ahead and staying on schedule. In class, Kelli suggested that an editorial calendar is planned 2 months at a time in order to make it easier to push out content on time.
Workflow: How is content created and maintained?
Kelli also went over a client she had that was able to make videos for their 8-week long social media campaign. They repurposed the videos over each of their channels: video stills for Instagram and videos and copy on Facebook and Twitter. It's important that you make content and "remix" them for every channel so that you can maximize your time spent making good quality content.
Governance: How are decisions about content and strategy made?
Once your social media strategy is thoroughly planned out, it's time to assign people to tasks. Who's going to create the content? Who's going to post the content? Who's going to analyze the posts? Is there only one person on the team? Can you hire outside help, such as an agency or freelancer, to do any of the tasks?
Resources
Kelli shared a social media cheat sheet that outlines what type of content fits best with each platform. You should know what works best for each platform in order to maximize success.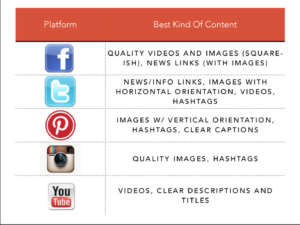 Social media needs a lot of attention and time to maintain. Here are some useful tools to help you keep organized:
Last but not least, the Twitter awards! We know the Oscars just happened, but sadly we do not have any trophies for y'all.
Top Tweeters: @juliahofmann9, @desireedahlson, and Bhalvz.
Most Popular: @desireedahlson and @YuddaMan
Total reach: 37,368
Number of posts: 198
66% original content
16% @ messages
16% retweets
Tweets with links: 20
Tweets w/o links: 186
Tweets with media:69
Tweets w/o media: 137
Overall a great class with lots of enthusiasm from our fellow classmates. Thank you to all who participated!