By: Sean Willcox, @SeanWillcox_10
In these polarized times, there's at least one thing that almost everyone can agree on: targeted advertising is creepy. A recent Consumer Reports study found that 85% of online consumers oppose Internet ad tracking, and are unwilling to trade their personal data, even anonymously, for the sake of being shown ads that might be more relevant to them (http://www.consumerreports.org/cro/news/2014/05/most-consumers-oppose-internet-ad-tracking/index.htm). There's no denying that there's something inherently invasive about being shown an advertisement that clearly reflects knowledge of your browsing history. Particularly because advertisers and social media sites don't necessarily have to ask your permission before sharing your personal details with each other. The increased sophistication of targeting technology has also upped the creepiness factor. For example, geo-targeting is a technique that uses GPS technology to track the location of mobile phone users to show certain advertisements only to people within a specific geographic radius. For reference, law enforcement officials require a court order to track the physical location of citizens through their phones. There also exists an alarming number of stories online of people that claim advertisers are using the microphones in their phones to show them advertisements based on the things they are talking about with their friends (OK, so maybe this is a Reddit conspiracy theory but it's not as implausible as you might think http://www.webpronews.com/facebook-listens-2015-02/). But could our uncomfortableness with targeted marketing be a case of throwing the baby out with the bathwater?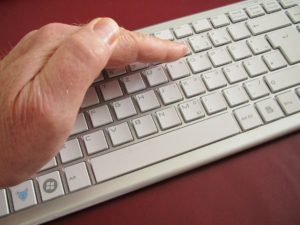 Because let's be honest, targeted ads are actually pretty useful too. There's no way to avoid advertising online, so if you have to see an ad why not have it be for something that's relevant to your life and personal preferences? Targeted marketing also creates a win-win scenario for retailers and consumers. Manufacturers and retailers can keep their marketing costs down by ensuring their ads are only seen by the "right" audience, which in turn allows them to price their merchandise lower. At the same time, consumers see fewer ads for products and services that hold no interest for them. While there's something intrinsically unsettling about being tracked by advertisers, there's also an undeniable value in only seeing ads for products you care about. If you've been searching for flights to Hawaii for the past three weeks, it really is kind of nice to see ads for hotels in Honolulu on your Facebook feed. The information about our browsing history is out there, at least by being used to create customized ads that information is being put to good use. There's also the interesting paradox that we use Facebook and other social platforms to share personal information about our lives, including even our physical location. But when we see an ad on these sites that reflects these personal details, we freak-out. I think we need to embrace the fact that advertisers know what we've been searching for and accept targeted advertising as a fact of life. Advertisers get to promote their products to people who are actually interested in them, and we get a personalized "ad feed" of products that we have demonstrated an interest in.